Following disappointing losses to the Celtics and Spurs, the Lakers have won two straight after downing Memphis in an ugly slobber-knocker.
Posted by Matt Moore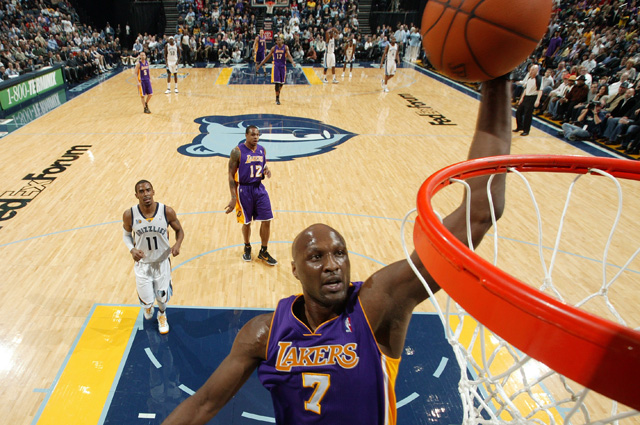 It's pretty simple, really, and that's what makes it so frustrating. When the Los Angeles Lakers execute with focus and intensity, they win. That may sound like it could be true for any team in the National Basketball Association, but it's not. Many teams give the good effort but don't have the talent, don't have the size, don't have the experience. Nowhere was that more evident than in the Lakers'
93-84 slugfest win
over Memphis to put the Lakers back on a winning streak headed into Thursday's rematch with Boston.
Before the game, Phil Jackson commented that despite L.A. having lost the last two to this upstart
Grizzlies
team, that the key to beating Memphis wasn't about Memphis at all.
"I'm not so much concerned about Memphis," Jackson said, "as I am concerned about us."
Nothing new for Jackson, who thrives on undermining opponents and focusing on being the most talented team in basketball, which he's almost always coaching. And after the Lakers bludgeoned the Grizzlies' frontline, Jackson commented that controlling the tempo was a key to taking control of the game after a Grizzlies run in the third quarter. It's really that simple. The Lakers are a superior team, and when they focus, and execute, there's not a team in the league outside of Boston who can stop them.
Funny, the Lakers seem to be headed to face that test back on the right track. After disappointing losses to Sacramento, Boston, and San Antonio, the Lakers have won two in a row and seem to be playing with more cohesion, especially defensively. But the biggest advantage is still their team makeup, which features superb talent wrapped in size and length that's nearly impossible to combat for 48 minutes.
Versus the previous losses where
Kobe Bryant
took over the lion's share of the offense and continued to force things, this win featured equal contributions from the entire Lakers' arsenal. But really? It was the three-headed monster of
Lamar Odom
,
Pau Gasol
, and
Andrew Bynum
, a 20'10'' beast that when functioning, swallows opponents alive. Odom, who has been the most consistent Laker this season (if you thought you'd ever say that sentence out loud, please buy yourself an ice cream cone), was huge against Memphis with 15 points, 11 rebounds, 2 assists, 3 blocks, and zero turnovers. It was his three-point play late in the fourth that put the game out of reach for good.
Jackson commented post game that he had actually decided to draw up a play for Odom instead of just having the ball given to Kobe Bryant and the Lakers watching him dribble around. After the play resulted in a three-point play, Odom remarked that they should draw that play up more, Jackson remarked, laughing. But it cuts to the center of the Lakers' problems this season, and why Jackson has remained calm, cool, and collected throughout the struggle. When they execute, when they have the energy, they are the most talented team in basketball. And no one can match up with their size and length, let alone their versatility.
Lamar Odom said after the game, however, that it's not their size that really makes the Lakers so tough.
"We've got so many different lineups we can play, so many guys who can play different positions. The strength of our team is our depth."
Against the Grizzlies, that was apparent, as the combinations Lionel Hollins employed never seemed to spark a run, and the Lakers used varying combinations to constantly put the Grizzlies off-balance. For example, Pau Gasol started on, and played primarily against
Zach Randolph
, and Gasol's gangly reach kept the normally surefire offense or Randolph at bay, forcing a dreadful 2-14 performance that sealed Memphis' fate. You will not beat L.A. if you do not get frontcourt scoring, and the Lakers' three-headed beast outscored Randolph,
Rudy Gay
, and
Marc Gasol
43-36, and that's before you factor in an aggressive Kobe Bryant.
Perhaps most pertinent heading into the more hyped game Thursday was that the Lakers showed a real sense of toughness in a gritty win. There was no flashy burst of offense in this one. It was messy, ugly, and brutal. The Lakers out-muscled and out-worked the Grizzlies at the defensive end. Ron Artest took a shot to the mouth from Marc Gasol, but the Lakers' bigs spent the rest of the night bullying the younger Gasol and company.
The swagger is back, even as they have not poured in a consistent blowout effort yet. It doesn't have to be. All this team has to do is play to a reasonable percentage of its potential and they'll be back vying for a top-two seed. And if they don't get it, that's fine, as long as they're in a position to execute as they did tonight. But don't expect the same kind of talkative swagger you expect from Boston about this "revenge game." When asked about what the Lakers hope to do against the Celtics, Jackson cracked that cocky smirk of his and said...
"Hopefully it's not going to snow and we won't get trapped in with the ice and we'll be fine."
Same old Lakers. Except this time, they seem ready to throw a few punches as well as those flashy smiles.
*******************
Notes:
The crowd at FedEx Forum was split evenly between Grizzlies fans and Lakers fans (particularly Kobe Bryant fans as few of the other Lakers received genuine cheers). The game had the feel of a neutral site game for both teams.
Jackson said he had not yet showed the team tape from the Boston loss a little over a week ago. He planned to do that on the two-day break between games.
Shannon Brown said that the Triangle forces the team concept on the Lakers, and eliminates the drive to get your stats. He also mentioned that his improved shooting wasn't on account of working with a shooting coach, but more reps inside the flow of an offense last summer.
Bryant received treatment on an ankle sore after the game and was walking pretty gingerly in the locker room.
After I promised not to ask Marc Gasol about his brother and the overhyped cliche-fest stories they're always billed around when these two teams meet, Gasol was appreciative, admitting that the questions were "getting a little old." As a younger brother, I completely understood.
Jackson credited Ron Artest from walking away from the confrontation with Gasol, but in reality, it was a little overdramatic. It was an obvious accidental hit, and Artest seemed ready to detonate in a very Ron-Artest way before calming down and heading to the free throw line, bricking both free throws, and coming out to get treatment. Can't blame him for clanking those, though, considering the shot he took.
Speaking of clanging free throws, the Lakers missed as many free throws (14) as the Grizzlies hit.
The Lakers refrain was pretty simple as to what won the game. Bryant, Odom, and Artest all said the same thing: the Lakers winning ways begin with defense.
Snoop Dogg and Warren G were both in the house. If you have never seen Snoop Dogg interacting with SuperGrizz, the Grizzlies mascot in a superhero outfit, you have not truly experienced life.