Are the Lakers in pursuit of a Carmelo Anthony trade?
Posted by Matt Moore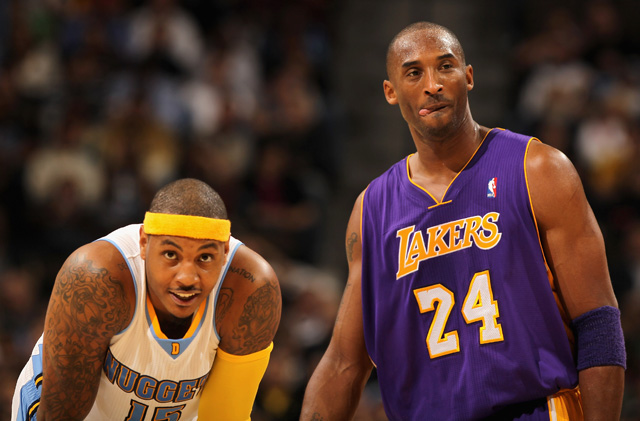 You knew it was only really a matter of time, really. The Los Angeles Lakers don't let opportunities to obtain star players go by unnoticed. That's not what they do.
ESPN reports:
The Denver Nuggets have had preliminary discussions with the Los Angeles Lakers on a Carmelo Anthony trade, league sources told ESPN The Magazine's Chris Broussard on Tuesday.

The Lakers' package would be built around center Andrew Bynum. Denver has no interest in Ron Artest and isn't particularly interested in Lamar Odom either, sources said. A straight-up deal of Bynum for Anthony works financially, but there could be other players involved since Denver would look to shed more salary if possible.
via
Sources: Los Angeles Lakers, Denver Nuggets have initial Carmelo Anthony talks - ESPN Los Angeles
.
Before you ingest this information and get all excited, I'd like to give you this: it's a 12-foot-by-12-foot piece of salt.
For the Lakers to do this deal would mean surrendering their true biggest advantage, their overwhelming size. Andrew Bynum,
Pau Gasol
, and Lamar Odom make up a 20'10'' rotating frontcourt. It's the reason they're able to disrupt so many passes, because passing between them is like floating a frisbee through a forest of sequoias. Taking on Anthony removes that element, as Pau Gasol would shift to center, and Odom to power forward. There's no big, physical force down low to guard the beasts or deter drives. Pau Gasol's an able defender, but he's not the same intimidating force Bynum is, even considering his injury issues.
Furthermore, bringing Carmelo Anthony on would mean a largely decreased role for
Kobe Bryant
, and the rest of the Lakers. Are Kobe Bryant, Lamar Odom, and Ron Artest willing to take fewer shots? Because that's what it would mean. Otherwise you're talking about bringing on a largely offensive player and asking him not to shoot as much. And Jim Buss, who is heavily involved from the organization's perspective, is notoriously pro-Bynum. Frank Isola of the
New York Daily News
reports
that Buss shot down such an offer recently
.
And that's just from the Lakers' perspective. What about the fact that in this deal, the Nuggets would pick up no pick? The Lakers traded their 2011 first-rounder to the
Nets
(who ironically had included it in their initial bid for Anthony). So the Nugggets would not be able to acquire a first-round pick this season in the deal. They would go from the Nets deal (Harris, Favors, three first-rounders) to Andrew Bynum and no pick. That's the bottom of the barrel. Bynum's a fine player, when healthy, and can be a monster as he gets older (when healthy), but I'm not sure he's worth
even the proposed
Knicks
deal (when healthy). Are you getting a pattern yet?
But on the other hand, the Lakers always have a way of getting their man, and as Masai Ujiri continues to frustrate GMs with his insistence on "more, more, more." By continuing that play, he may set himself up to get less than what he wants. Adding Anthony would add a fourth All-Star level player to the Lakers, making them not just the most talented team in the league, which they already are, but one of the most talented teams in NBA history.
There's one more element to consider here. Lakers GM Mitch Kupchak almost never does deals in public. The Pau Gasol trade came out of nowhere. Each deal he does is done very close to the ground and the Lakers' organization is notoriously leak-proof. So if the Lakers aren't the ones leaking this trade, who is? It may be an effort from the Nuggets to exert more leverage (lost in the Nets breakdown) on their dealings with New York, or it could be Melo's representatives putting pressure on New York to step up.
The tangled web gets even more tangled. These are the days of our Melo.