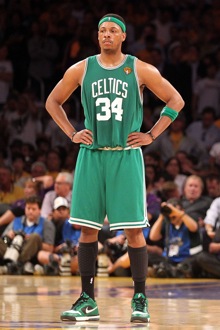 Posted by Royce Young
The NBA announced the participants for the annual 3-point contest at All-Star weekend and there are some big names involved.
Ray Allen
and
Paul Pierce
of the
Celtics
,
Kevin Durant
of the
Thunder
,
Daniel Gibson
of the
Cavaliers
, Golden State's
Dorell Wright
and Miami's
James Jones
will compete.
Pierce of course is the reigning champion, but he's defending against a pretty stout field. His teammate Allen will be the all-time 3-point leader by the time of the contest and Dorell Wright leads the league in 3-point makes at 124.
Gibson is in the top 10 in percentage at 44 percent. Jones has hit 91 3s on the year, 12th in the league.
But the real wild card is Durant, who at just 34.7 percent may not seem like a great candidate to win this. Durant though is absolutely one of the finest spot up shooters in the league and he's the kind of player that can make 15 in a row. He's had multiple months in his career of hitting 50 percent from 3 and the only reason his percentage is down is because of a slow start in November. Since the first month of the season, Durant is hitting over 40 percent from 3.
Really though, this is one of the most intriguing groups in the contest in a while. To have three big stars like Allen, Pierce and Durant, with one being the all-time leader is pretty cool. Wright, Gibson and Jones are your preverbial specialists. It's a really nice mix.
Last year Pierce bested
Stephen Curry
in last year's contest, scoring 20 points in the final round to capture the title. Jeff Hornacek,
Jason Kapono
, Mark Price and
Peja Stojakovic
each won two titles; Larry Bird and Craig Hodges captured three straight.
Gibson actually has the highest career pecentage of the group at 42.6. Allen has made 39.8 percent of his career 3s, Durant 35.8, Wright 38.3, Jones 40.0 and Pierce 37.0. Allen has hit 2,559 in his career and the only other player in the field with at least a thousand is Pierce, who has hit 1,297. Between Durant, Gibson, Wright and Jones, their total is 1,513.
Missing out though are
Matt Bonner
,
Shawne Williams
(who leads the league in percentage) and
Anthony Morrow
. I also think
Kevin Love
deserved some pretty serious consideration too because when open, he's near automatic from 3.