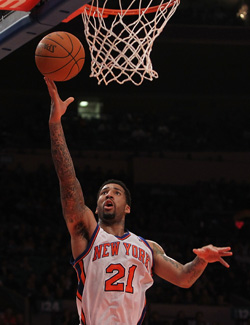 Posted by Royce Young
Forget all this
Carmelo Anthony
to the
Lakers
talk.
As Ken Berger reports,
someone is just trying to ruffle the
Knicks
feathers.
So let's get back to painfully covering every bit of the Melo-to-New York stuff.
As Berger first reported last week,
there's a three-team trade being floated involving the Knicks,
Timberwolves
and
Nuggets
. Denver would get
Wilson Chandler
from New York plus
Corey Brewer
and a first-round pick from Minnesota.
But most feel like this just isn't near enough for Carmelo Stinking Anthony,
so according to ESPN.com,
the Nuggets are hunting for more.
The initial discussions revolved strictly around Chandler, but now Denver is asking for some of New York's younger assets in
Danilo Gallinari
and
Landry Fields
, plus Chandler.
I bet opposing general managers are getting pretty sick of the Nuggets saying, "OK, so how about you throw in a little more too."
Rookie
Andy Rautins
and Kelenna Azuibuike and his expiring contract were
also mentioned earlier as well.
The Knicks would likely balk a bit more at including that much, seeing as they know they can just get Carmelo in free agency over the summer. As much as Denver thinks it has some leverage in this game, all that passed out the window when the
Nets
pulled out. Melo wants to play in New York and he'll get there one way or another. So while of course the Nuggets can ask for more, the Knicks can just wait until July and keep their young players.
What it comes down to, is if the Knicks feel like adding Melo this year gives them a legitimate chance in the postseason. If so, they might be more inclined to deal some of their younger talent.
It has to be somewhat tempting for New York to just get it over with now and have Carmelo. Once they hit the right mark, Denver will pull the trigger. The trade deadline is rapidly approaching and the Nuggets don't want to get burned. So while they can keep asking for the Knicks to add this or add that, at some point they're just going to have to lay the cards on the table and make the call.