Dallas Mavericks guard Dominique Jones is expected to miss significant time with a foot injury. Posted by Ben Golliver.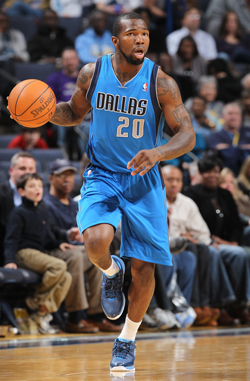 Dallas Mavericks rookie guard Dominique Jones has suffered a foot injury that will keep him out for a "significant period of time,"
according to the Dallas Morning News
.
The Mavericks' injury situation has taken another bad turn as rookie Dominique Jones suffered a foot injury that will sideline him for a significant period of time, two sources said.
The injury occurred recently and Jones stayed behind as the team left for Sacramento on Tuesday. It's not known what the injury is, but it will take some time to recuperate from.
Jones, a first year player out of South Florida, hasn't seen much time for the Mavericks and has logged some time in the D-League for the Texas Legends. He's a big-bodied scoring guard, but hasn't been able to find minutes in Dallas' veteran-laden backcourt.
His numbers with the Mavericks: 2.3 points, 1.1 assist in 7.5 minutes per game over 18 appearances.
His numbers with the Legends: 18.7 points, 5.2 rebounds, 5.0 assists in 37.5 minutes per game over 10 appearances.
ESPNDallas.com also notes
that Jones has gone done right as fellow young guard
Roddy Beaubois
is poised to make his return from his own foot injury.
Roddy Beaubois hit a personal milestone Tuesday as he participated in his first full practice. It was an abbreviated, 45-minute workout before the team headed to Sacramento. Beaubois will not be on the first two legs of the trip, which goes through Denver on Thursday. He could join the team in Houston for Saturday's game against the Rockets, although Beaubois won't play in that game either. The earliest Beaubois could make his season debut is Feb. 16 at home against Sacramento or Feb. 17 at Phoenix Suns, which leads into th All-Star break.
Beaubois' absence has stretched on and on for months, it's gotten past depressing and past confusing. Here's hoping Jones enjoys a quicker recovery timeline.