Portland Trail Blazers coach Nate McMillan says he "doesn't foresee" guard Brandon Roy playing this weekend. Posted by Ben Golliver.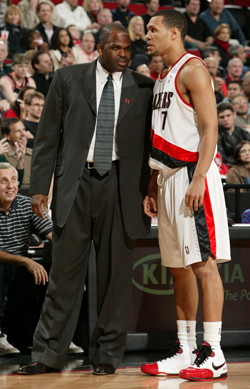 On Monday, we noted that Portland Trail Blazers guard Brandon Roy told
The Oregonian
that he
planned to return to the court
this weekend. Roy, of course, is a little more than three weeks removed from dual arthroscopic knee surgeries.
A few hours after Roy made his declaration, Blazers coach Nate McMillan was
noncommittal regarding Roy's timeline, saying post-game
: "I'll see if these guys show up for practice and we'll go from there. As far as them playing this weekend, that hasn't been decided by us."
On Tuesday, McMillan went further than that,
telling Blazers broadcasters Mike Barrett and Mike Rice
that he "doesn't foresee" Roy playing this weekend. "We have to [take a cautious approach] ... Brandon has been cleared to practice, he has been doing some running on his own, shooting when the team has been out of town. He has been cleared to practice, there is no set date or game for him to return."
McMillan said Roy would start practicing with his teammates this week. "The plan right now is to limit his time in practice, slowly work him back. he's been off for two months. He will be allowed to go live in practice for about 30 minutes. After a day or so that will increase a bit and we'll see how he feels."
McMillan then stated twice that he didn't see Roy's comeback taking place this weekend, when the Blazers travel to Toronto to face the
Raptors
on Feb. 11 and to Detroit to face the
Pistons
on Feb. 13. "I don't foresee Brandon playing this weekend. We need to get him some time on the practice court and see how he responds to that," McMillan said.
Asked if he might be swayed by a strong performance during practice this week, McMillan just laughed and repeated, "I don't foresee him playing this weekend."