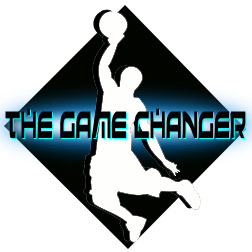 The Miami Heat get an easy one thanks to a late-game meltdown by the Indiana Pacers, LeBron James gets way up, Blake Griffin throws down the Alley Oop and Chauncey Billups looks cold. Plus, plenty more. Posted by Ben Golliver.
Each game is made up of elements that help formulate the outcome. Monday through Friday, we'll bring you the elements from the previous night's games in our own specialized version of the game recaps. It's not everything that happened, but it's an insight into what led to the results you'll see in the box scores. This is
the Game Changer.
THE BIG ONE: PACERS CHOKE AGAINST HEAT
The Indiana Pacers and their new teenage-looking coach Frank Vogel are hard to root against, as the sacking of Jim O'Brien immediately produced a four-game winning streak for a team that had only won four games in the month prior to his dismissal.
The winning came to an end -- and Vogel's undefeated head coaching record was finally tarnished -- on Tuesday night as the Pacers lost to the mighty Miami Heat on the road, 117-112.
The ending to this one was not only bizarre, it was fairly rare. Allow me set the scene.
With 8.9 seconds left, the Pacers have the ball on a side inbounds play in the frontcourt, trailing by three points, 115-112. The Pacers stacked four players in the middle of the court with guard
Dahntay Jones
inbounding the ball. Even without strong initial pressure on the ball, Jones couldn't find anyone, and he watched as Pacers forward
Mike Dunleavy
Jr. fired across the top of the key, as point guard
Darren Collison
shot into the near corner and as forward
Danny Granger
came directly to the ball. The only non-shooter on the court for Indiana, big man
Jeff Foster
, just stood stunned in the paint watching this car wreck unfold.
With all three possible options exhausted, Jones finally threw a bounce pass in to Granger, only to have the referee blow his whistle, signalling for a five second violation.
Man alive. How often do you see a five second violation on a potential game-winning, last second play? Not often.
Credit goes to Heat coach Erik Spoelstra, who had a small-ball defensive lineup in with guards
Mario Chalmers
,
Dwyane Wade
and a trio of forwards: LeBron James,
Chris Bosh
and
Mike Miller
to defend against the obvious three-point attempt. Chalmers didn't initially pressure the ball that hard, but as the clock started ticking he does move up, obscuring Jones' vision. Miller and James simply did their jobs, shadowing their men and not getting hung up on screens. Dwyane Wade probably had the largest role in causing the violation, sticking to Granger like glue, forcing Jones' delay and indecision because he was worried about a Wade steal from behind.
But we shouldn't go overboard in praising Miami. This wasn't a difficult to time catch-and-shoot situation. This was a standard late-game entry pass that the Pacers simply couldn't execute. Get. The. Ball. In. Bounds. They couldn't do it.
Miami cashed in on the mistake as the Pacers were forced to foul immediately and that was the ball game. Take a look at the play. Admire the meltdown.
GO-GO-GADGET LINES OF THE NIGHT:
LeBron James: 41 points, 13 rebounds, eight assists on 15-of-23 shooting in 42 minutes in a Miami Heat home win over the Indiana Pacers.
Dwight Howard: 22 points, 20 rebounds, two assists, two steals, one block, +30 (!) on 7-of-13 shooting in 37 minutes in an Orlando Magic home win over the Los Angeles Clippers.
Zach Randolph: 31 points, 13 rebounds, four assists on 11-of-19 shooting in 47 minutes in a Memphis Grizzlies road win over the Oklahoma City Thunder.
DON'T MISS:
SNAPSHOT:
Blake Griffin might put more people on posters, but nobody dunks in more photographic fashion than LeBron James. Watch out, below. My goodness. Two of his 41 points.

HIGHLIGHT REEL:
This is just a Blake Griffin dunk every single day, you know how I do it. Here Griffin catches the alley oop lob pass and dunks over Orlando Magic forward
Ryan Anderson
,
much like he dunked
over
Kyle Korver
recently. Griffin struggled on the night, scoring just 10 points and grabbing 12 rebounds in 35 minutes of action in a 101-85 loss to Orlando.
WHIMSY:
Per Denver Nuggets team policy, Chauncey Billups does not charge baggage handling fees. Boy, he looks cold.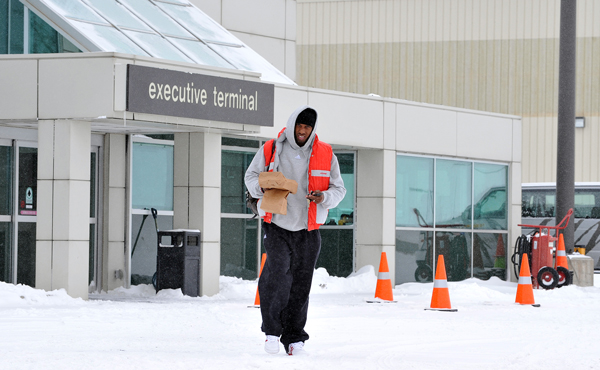 FINAL THOUGHT:
I, for one, am glad that
Kevin Durant
made the three-point contest even if he is the
only one of the contestants
to shoot below league-average from deep. Given his competitive desire, overall talent level and ability to rise to the occasion, Durant not only makes a great candidate, he serves as an excellent foil for the field. He gets to take on a Larry Bird role here, the intimidating all-NBA gunner who the specialists can try to take down. I love it. What better script is there for a three-point contest?