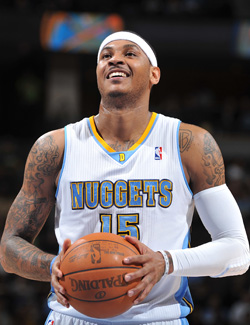 Carmelo Anthony swears he'll seriously consider re-signing with Denver if he isn't traded before the deadline. We roll our eyes.
Posted by Matt Moore
You have to give them this: If the Denver
Nuggets
really are just manipulating media stories to get more out of the New York
Knicks
' trade offer for Carmelo Anthony, they're being very thorough about it. One day
after reports surfaced of what would be a relatively ludicrous deal
involving the Los Angeles
Lakers
, today word is coming out very strongly, from Anthony himself, that he may not leave Denver at all.
Yahoo! Sports reports that after practice, Anthony
said that he would "take a real hard look"
at signing the extension with Denver which would end all of this speculation, keeping him in Denver for the foreseeable future. This is on the heels of a
Denver Post report saying
the Nuggets may consider keeping Melo the rest of the season and seeing how the playoffs go.
Of course, this is the same extension that's been on the table since July. The Nuggets weren't exaclty subtle early on with their intention to lock up Melo quickly with a max offer. He's gotten it. The deal's not going to sweeten itself. It is the most it can be, and if he were really interested in it, you'd think he might have realized at some point it was what he wanted.
Anthony
also says he hadn't heard
of the Lakers rumor until today, which is about as ridiculous as it gets. There's simply no way his agent didn't inform him of said talks immediately. Anthony's just playing his part in all this, acting ignorant of all the rumors while being the sole reason for all the distraction. For whatever reason, he's reasserting himself as possibly staying in Denver, when he could have made that decision this whole time. This reeks of CAA trying to apply pressure to a calm, cool, and collected Donnie Walsh who knows that he won't have to surrender the farm to get Carmelo Anthony, and that there's no reason to do so just to accomodate Anthony's wish earlier.
Maybe Anthony really is having second thoughts. Maybe he is that spooked about a possible CBA lockdown on salaries and wants to assure himself his future now. Or maybe this is yet another ploy in a series of ploys to manipulate the situation into just what he wants. Anthony would be reversing everything that's been indicated before now. It would be settling for a second-tier team in a non-major market just because of loyalty. And those are great reasons to stay somewhere. But that hasn't exactly been Melo's M.O. When the subject of
LeBron James
' 2010 free agency first arose nearly three years ago, most people said it was overblown, that nothing big would happen, that he'd stay in Cleveland. Now look where we are. Melo is committed to doing the best thing for himself and his brand. It's hard to see him electing to stay in Denver as part of that plan.