Taking a look at Chicago Bulls point guard Derrick Rose's offensive improvement and MVP candidacy. Posted by Ben Golliver.
The main storyline out of Portland's win over Chicago on Monday was that Blazers forward
Nicolas Batum
may or may not have called out
Bulls point guard Derrick Rose's defense. This was a disappointing turn of events, for two reasons.
First: Because Rose is a committed, solid, by-the-book defender who doesn't regularly make spectacular plays but expends more energy on that end than most superstars that carry such a heavy burden on offense. Second: Because both Batum and NBA scouts left the Rose Garden on Monday night extremely impressed with Rose's offensive development, specifically the gameplan-altering work that Rose has put into his jumper.
Rose's offensive development this season has been discussed a fair bit: his three-point shooting percentage is way up, boosting his overall eficiency and complementing his lethal first step to make him as difficult a one-on-one cover as there is in the NBA. Here's a look at his per-game numbers.

This season, Rose has taken more shots than ever (a career-high 20.1 attempts per game, up from 17.6 last season) and, not surprisingly, his overall field goal percentage has taken a hit (it sits at 44.7%, down from 48.9% last season). Coupled with his spike from deep (at 36.4%, improved from 26.7% last season), you won't be surprised to find out that HoopData.com's shot location data show big-time drop offs in Rose's
mid-range shooting percentages
.
If there was a message imparted by decision-makers on Monday, though, it was this: Don't let those numbers fool you into thinking there's been any type of regression in Rose's game. He's a better shooter today -- from everywhere on the floor -- than he's ever been, and he commands far more defensive attention in the mid-range than he did in previous seasons, when teams played the odds and dared him to shoot on a regular basis.
So why are the numbers down? A few explanations. One, he's seeing lots of extra defensive attention and therefore taking way more contested jumpers. His usage rate is sky-high usage -- Rose is
No. 2 in the league in usage rate
, trailing only
Kobe Bryant
, but playing nearly five more minutes a game than he does -- and efficiency almost always tails off when you reach those upper bounds.
Looking at tape of the Portland game, it's easy to see the progress in Rose's shot and also admire the regularity with which Chicago's offense puts him in good position to beat teams in a variety of ways.
Early in the game, Chicago got Rose going immediately, running him off of two dribble hand-offs, both of which he promptly knocked down for open jumpers. Portland responded by strongly overplaying Rose, trying to keep the ball out of his hands as much as possible. Chicago adjusted right back, using a back screen to free Rose coming across the key. Take a look at this gorgeous mid-range floater that he confidently, almost non-chalantly, flips in over the seven-foot
Joel Przybilla
.
Rose simply couldn't miss from outside to open the game, so Portland began alternating defenders and switching all picks when Rose had the ball in his hands. This is a difficult proposition given how many pick-and-rolls Chicago runs, how effective Rose is in the pick-and-roll and how much Rose has improved his shot mechanics. Just minutes into the game and he was necessitating full-scale attention and adjustments.
Even during the rare occasion when Chicago bogged down a bit on offense during the first half, Rose's jumper was there to save the day. Here, he realized that, with seven seconds left on the shot clock, he had to make something happen, so he used a screen to escape to the corner. The forced switch took place with Batum winding up on Rose as the shot clock crept below five. Batum, an elongated and not-quite-polished version of
Shane Battier
, is a tough guy to shoot over given his length, but Rose did what he does best: create space off the bounce. With a lightening quick dribble move, Rose finds his shooting window and rises up with excellent form, on-balance and able to hold the follow-through. That's a tough shot from just inside the three-point line, and it's one Portland is happy to have Rose settle for. But it's also one he buried to save the possession.
Later in the second quarter, we have a somewhat similar situation. Rose finds himself guarded by Batum and he again looks to use his quickness to his advantage. He gets Batum back on his heels, as Batum is thinking drive prevention and paint protection. Rose stops on a dime as few can, pulls back directly into his shot motion, and, with his shoulders square and his ability to follow through intact, he steps in at the free throw line and buries the contested jumper. If you're nit-picking, you're not thrilled that he falls back a bit after the release but, given his body language, it appears he knew the shot was good as soon as he let it go. A high degree-of-difficulty shot made to look easy.
Later, in the third quarter, Rose uses a high pick-and-roll excellently, stringing out Portland's defense to create space for his big man to roll and to force the rest of Portland's defense to scramble behind him. After patiently surveying the scene, Rose pulls up, knowing Przybilla, who has switched on to him, won't be able to elevate quickly enough to contest his jumper. Again, the mechanics are very good: shoulders square, shooting motion pulled up in rhythm, follow through on point.
The final one we'll look at combines Rose's speed on the ball, uncanny ability to find new angles as he's driving and solid shot mechanics again. The final product here is a bit more highlight-reel oriented, given the nasty crossover and the quickness of the pull-up, but again his shoulders are square, his follow through is there and his shooting motion is smooth and quick off the bounce. He's in rhythm once again and, given how close he is, the fallaway doesn't affect the ball's ability to get to the rim. Money once again.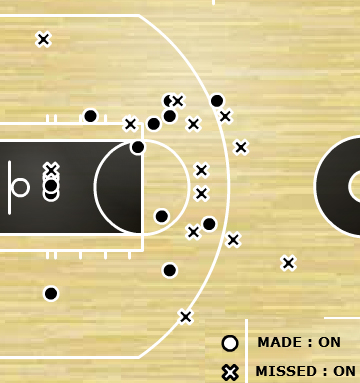 On the night, Rose was 14-27 for 36 points, but just 1-6 from deep. His
shot chart
shows just how often he went to the mid-range game and the success he had there.
Afterwards, Batum summarized the state of improvement: ""I'm impressed by his jump shot. His first two years, if you guard D. Rose you just stand back and let him shoot it. Now he proves it a lot with his jump shots, makes it so difficult to guard him. Because now if you step back he makes everything, and going to the rim, he's too fast."
Lest you think Rose was all jumpes in this game, don't overlook this
absurd spin move
or this
vicious crossover for a dunk
. Generally, in this type of situation, the next step would be to suggest the player continue to attack the basket and get to the free throw line to further improve his efficiency, but Rose has never had a problem getting to the rim and, as
Basketball Prospectus noted today
, has improved his ability to get to the free throw line recently.
The only thing left, really, is to allow his mechanical improvements to continue to take hold. It's scary to imagine, one observer hypothesized, how good Rose can be as an offensive force if he improves as much during the next two summers as he did during this past summer.
The scariest part: Rose has already closed the gap on the very upper echelong of efficient point guards. Here's a chart of the league's most efficient points and Rose's substantial improvement over the last three seasons.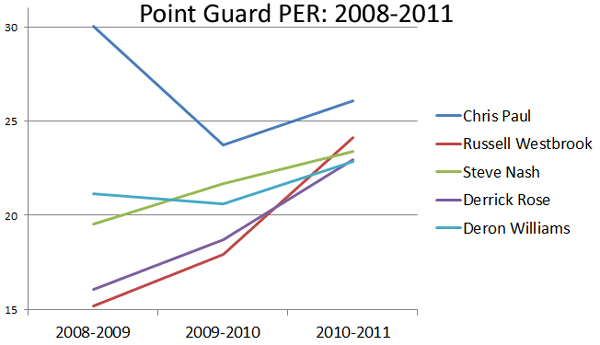 Here's the relevant raw per-game numbers if you're interested as well.

After viewing all of that tape, Rose evokes a bit of
Steve Nash
, doesn't he? His ability to clear space, find a clean look, hit the off-balance shot as long as he's in rhythm, not to mention his ability to string out defenses and force big men to go places they don't want to go. Nash isn't a comparison that first comes to mind -- given how physically imposing and athletic Rose is -- but I think there are growing similarities there, particularly in their mastery of the nuances of the pick-and-roll chess match.
So where does all of this leave me on the key Rose questions: Is he the best point guard in the game and is he an MVP candidate?
To the first question: I will copout and say he's the most important and most difficult to defend point guard in the game but I'll stop short of calling him the "best," given the year
Chris Paul
is having. However, if I had to pick one point guard to build a team around for the next 10 years, Rose would be the choice and it wouldn't be particularly close.
To the second question, I think he's on the outer fringes but not quite there yet. The occasional critical mental error and forced shot hold him back, at least for now. But given another summer or two to improve and/or another complementary perimeter scorer? There's nothing stopping him.