The Los Angeles Lakers deny interest in trading for Denver Nuggets all-star forward Carmelo Anthony. Posted by Ben Golliver.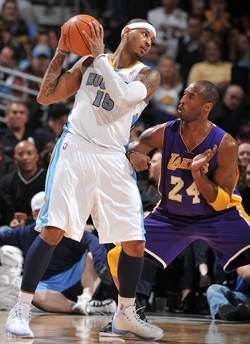 Yesterday,
we noted a report
that the Denver Nuggets and Los Angeles Lakers were engaged in some talks surrounding All-Star forward Carmelo Anthony and big man
Andrew Bynum
.
Upon further discussion in our Eye On Basketball roundtable
, we generally agreed that it didn't make a ton of sense for the Lakers, given the timing, the loss of Bynum from their front line, money owed to Anthony and his questionable fit in the immediate short-term.
Now comes word
from the Los Angeles Times
that the Lakers were equally skeptical at the notion of the trade.
But the Lakers denied it was on the table in the first place and insisted team executive Jim Buss and General Manager Mitch Kupchak were on the same page as far as trade opportunities.
Coach Phil Jackson chuckled at the rumors in general after the Lakers practiced Wednesday in Boston. "I haven't even entertained it," Jackson said of trading for Anthony. "My first thought is why are these [media] people interrupting my life with these kind of rumors."
Leave it to Lakers star
Kobe Bryant
to deny the rumors with a great one-liner.
"We don't really deal with the unknowns," he said. "You might as well talk about UFOs, too."
In related news, extraterrestial sources close to the planet Mars tell me that the Milky Way galaxy has expressed interest in Lakers forward
Ron Artest
. The galaxy is said to value Artest's defensive intensity and ability to "think outside the Earth."
In case you missed it: today's other Carmelo Anthony headlines...