Posted by Royce Young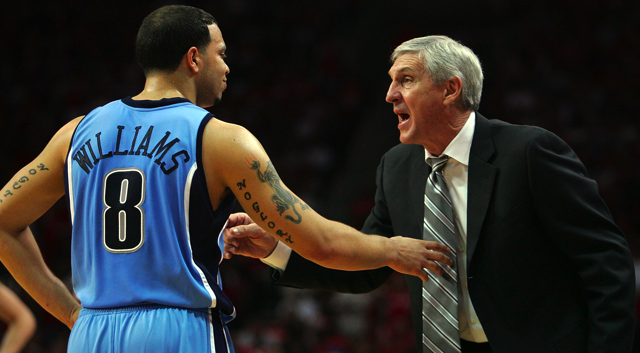 News of Jerry Sloan's resignation is about as shocking a thing as you can expect on your regular February Thursday in the NBA. It came just a week after Sloan had reportedly signed a one-year extension and as the longest tenured coach in American professional sports, everyone was left asking one question.
Why?
According to the Salt Lake Tribune,
Sloan had "lost the team." One source described the situation as
Deron Williams
only staying if Sloan stepped down. Everything down to playing time, Sloan's famous "flex" system and rotations alienated key
Jazz
players.
Yahoo! Sports reports the two clashed
in a big way at halftime of the
Bulls
' game Wednesday. "He decided right there in halftime that he was done," a league source said. "He felt like ownership was listening more to Williams than they were to him anymore. He was done."
Marc Stein of ESPN.com added to the pile, tweeting
: "Two sources say Wednesday's tension started when DWill ran different play than play called on sideline by Sloan, leading to halftime blowup."
Whoa.
Williams is a free agent in 2012 and has always been a very strong-willed player. Williams and Sloan had always gotten along, but the relationship has certainly been rocky. The feeling,
according to Brian T. Smith of the Salt Lake Tribune,
is that Williams wasn't staying past next season if Sloan was still there.
But Deron Williams didn't just push out a coach, he pushed out
Jerry Sloan.
He pushed out the coach that had patrolled the sideline for 23 years. He pushed out a Hall of Famer, a coach with more than 1,200 wins and one of the all-time great. Not exactly something you want on your resume when you're looking for that max contract as a free agent.
So the front office may have made this move in order to salvage its chance to keep Williams. But the question is, how in the world does Williams stay if his legacy is pushing out Jerry Sloan? How can he possibly re-assert himself as the face of the franchise if he's the one credited with pushing the franchise's most legendary figure out the door?
Al Jefferson
was brought in to replace
Carlos Boozer
and had performed well at times, but often looked uncomfortable. But really, who's fault is that? Sloan's, or the person that assembled the team? I mean, Sloan has been there for 23 years. I'm pretty sure we know how he's running the team. So it's not on him to bring in players that fit in right. It's up to players to adapt to the system and for the front office to put together a group that works well in it.
If Jerry Sloan "lost the team," I just find that ridiculous. Yes, the Jazz have been struggling. They're 31-23 and second in the Northwest. But they had high hopes this season with the offseason addition of Jefferson. Then again, this is a team that was losing Boozer, sharpshooter
Kyle Korver
and
Ronnie Brewer
, who all played key parts in the team last season.
And on top of that, the star Williams, wasn't playing nice with Sloan. All of that was a recipe for disaster. Evidently Sloan had enough. By all appearances management was siding with the players here so backed into a corner, Jerry Sloan just handed in his papers.