Utah Jazz guard Deron Williams denied and downplayed rumors that a disagreement between he and coach Jerry Sloan led to Sloan's resignation and lashed out at the media's portrayal of the situation. Posted by Ben Golliver.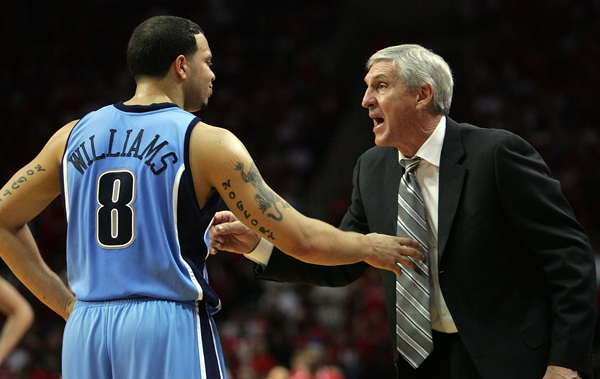 On Thursday, Utah Jazz coach Jerry Sloan
tendered his resignation
, and
rumors immediately began swirling
that a rift had developed between Sloan and Utah's All-Star point guard Deron Williams.
In a Thursday afternoon interview with
David Locke on KFAN 1320 in Salt Lake City
, Williams downplayed those reports and lashed out at the media's treatment of the situation.
Williams began with his initial reaction to today's news: "It sucks. I didn't think he would ever retire in the middle of the season," Williams said. "I watched the press conference and he said it was his time."
Williams then took a swipe at reporters claming that he had a role in Sloan's departure. "All those guys, Ric Bucher, Chris Broussard, they're all in our locker room everyday," Williams deadpanned. "I'll let them report what they want to report, that's what they are paid to do. That's why I'm always short and rude with the media, because they're your friend. Ric comes in and sits by me every time I see him, acts like he's my friend, but the day they find something they want to spin, they jump on it. That's why I am the way I am and will continue to be the way I am."
Williams did admit that he and Sloan had had differences of opinions during his time in Utah. "Me and Coach Sloan, I don't want to say [we had] a rocky relationship, but we've have our disagreements over the years. Probably no more than any other coach and player have arguments. We're both competitive, we're both very stubborn. I think that's where we clash. One thing we always agreed on is that we both wanted to win."
Williams denied a report that he had approached Jazz management saying that he wouldn't re-sign with the team when he's a free agent if Sloan was still the head coach. "That's not true. I would never force coach Sloan out of Utah. He's meant more to this town and organization than I have by far. It's not my place."
As for a report that he and Sloan almost came to blows during halftime of last night's game, Williams confirmed that a "disagreement" took place, but downplayed the severity of it. "I don't know, we just had a disagreement. We've had them before, we've had worse ones. I've seen him have worse ones with other players. Jerry is very fiery, I guess that's the word to use. I am too. Sometimes we clash on things."
Williams said that his relationship with Sloan this year has been similar to his previous years in Utah. "It's been pretty much the same, we get along a lot, we disagree sometimes, but we both want to win. It has been a frustrating year. We felt we were supposed to be a little better than we have been.
"I've been lucky. Not many people get to come into the league and play for a Hall of Fame coach for the first six years. Chance to learn from one of the best. I've won a lot of basketball games because of Coach Sloan."
Asked one final time if he asked or wanted Sloan removed as head coach of the Utah Jazz, Williams replied, "No, sir."