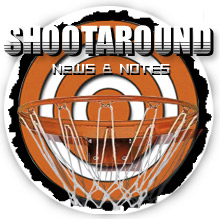 The King wants a bad game on TV, Derrick Rose has gotten better around the rim, and Jerry Sloan was around for a while. All this and more in today's Shootaround.
Posted by Matt Moore
Just how many coaches did Jerry Sloan out-last during his tenure?
SBNation takes a graphic look
.
The
collected history
of the 3-point shot.
Tyson Chandler
thinks he got snubbed
for the All-Star Game. Join the club.
Rose has not only become an MVP candidate this season,
he's improved at drawing contact
within the context of the season. It was a major weakness that I too have noticed he's improved on. He's no longer avoiding contact or leaning away at the point of attack.
The
Bucks
spent all that
money over the summer
and have so very little to show for it.
LeBron James
wants the Cavs-Wizards
game televised
.
MJ's
still got it
.
Landry Fields
tries his hand at selling his own jersey
.
The
life and times of dealing
with Gregg Popovich as a beat writer.
Marcus Camby
might be back soon
. Maybe. Probably. Perhaps.