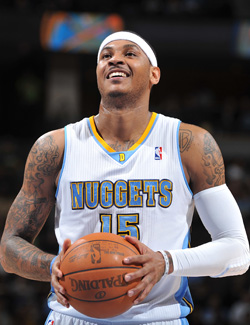 Posted by Royce Young
Carmelo Anthony
has been playing really well lately. In February, with the trade rumors really heating up, Carmelo is averging 32.8 points and 6.3 rebounds per game on 56 percent shooting from the field and a sizzling 55 percent from 3.
He's been saying since all of this started that he just had to put all of that out of his mind and play. He's never let up and never given any indication to the
Nuggets
that he wasn't giving everything he had. He's always said that while he's a Nugget, he's going to play hard for them.
A lot of people have taken notice of Melo's remarkable focus, as well as Melo himself.
Via Chris Tomasson's Twitter Anthony said,
"I take my hat off to myself for dealing with all this stuff that's going on and still be able to go out and play at the high level.''
You've got to love that line.
I take my hat off to myself.
Not "I give myself a little credit" or "I've surprised myself," but instead he's hat-tipping himself. That's good stuff.
More Melo: "I don't think an average person can walk in my shoes. I don't think that."
Carmelo Anthony: Not an average person. He may walk among mortals, but he is a king of men and a god of basketball. You think Carmelo knows that it's not like he's playing through a horrifying disease, but it's just some trade rumors, that he, in fact, kind of started? Eh, don't ruin his moment.
Really though, Melo does deserve credit for busting his rear the past few weeks. He hasn't given up on the Nuggets and he's playing like he'll be there the rest of the seaon. No matter what, he's always just said he's waiting for the summer to evaluate options. We know what that really means, but he's still in Denver and he's still playing.