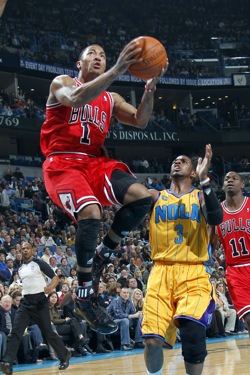 Posted by Royce Young
Derrick Rose
's name may be rising in the MVP conversation. He actually may be at the top of the list.
But he's still having trouble cracking the "top point guard in the league" debate. Whether it's because he doesn't routinely dish out 10 assists a night or because I'm not even sure what qualifies a real "true point guard," Rose is still trying to overcome
Chris Paul
,
Deron Williams
,
Rajon Rondo
and even the blossoming
Russell Westbrook
in terms of the top spot of elite point guard status.
Rose made another statement Saturday though, outplaying yet another one of the league's top point guards in Chicago's 97-88 win over the
Hornets
. Rose had 23 points and six assists against Chris Paul, but perfectly orchestrated the Chicago offense in the second half. What's making Rose so good right now is that he's picking spots to take over. He has weapons in
Carlos Boozer
,
Luol Deng
and
Ronnie Brewer
so he doesn't have to score 35 in order for the
Bulls
to win.
That description though, is what was used to summarize how crafty and Chris Paul has always been. Paul is a player capable of routinely scoring 20 points a night, but instead he involves teammates wonderfully and chooses his battles. He finds the moments when he needs to score, when he needs to shoot and when he needs to create. It's the gift of a great point guard.
But with Rose's latest vanquishing of one of the league's premier point men, we've got to start asking, where exactly does he rank? I think we can all agree he's somewhere in the top five, but using this latest showing, is he better than Paul? I know, I felt a little weird asking that myself. But let's look.
There's no arguing that Rose is the better athlete. He's far more explosive. That's partly unfair to CP3 as it doesn't look like he's fully recovered from that knee injury that sidelined him for most of last season. But Rose plays above the rim and can finish over anyone. Paul has to get creative. He has to wiggle into the lane, create a little contact and finish. But just being fast, strong and able to jump high doesn't make you the best.
Because where Paul has Rose still is in the category of running a team and an offense. There's just nobody in the league that sets up his guys like CP3. Most of Rose's dishes come as a result of breaking down the defense, getting them to collapse and then kicking to an open player. Paul actually finds open men. Watch Chris Paul next time. I mean, really
watch
him. It's almost stunning to watch him locate an open shooter at the last second.
Paul is also the better defender at this point.
Nicolas Batum
called out Rose's defense after
Andre Miller
torched the Bulls' point man, but Batum was a little excited there. Rose is a good defender. He's just not CP3. Chris Paul is a truly elite defender. I've never been so impressed with Paul's defense as I was last season when he took the assignment of
Kevin Durant
for an entire fourth quarter and frustrated Durant into multiple turnovers, tough shots and basically kept the
Thunder
's scorer entirely out of rhythm. It was a sight.
Rose's most recent effort showcased though how far he's come. He did a fantastic job on CP3, holding the Hornet to just six assists and 3-10 shooting. He used his athleticism to keep Paul out of the paint and contested everything. Rose may not be a great defender, but he's better than average.
Is he there yet though? Is Rose really at the level of Chris Paul in terms of the very best point guard in the league? I don't think so. That's something CP3 has won because of the excellence of multiple seasons. We saw how important Paul was to this Hornet team when he went down last season. Rose has absolutely carried the Bulls through injuries this season and in terms of just a basketball player, is every bit Paul's equal. But in terms of a point man, CP3 still bears the torch.
For now.