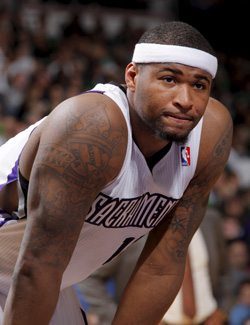 DeMarcus Cousins was suspended by the Kings late Saturday night following a locker room incident involving Donté Greene.
Posted by Matt Moore
DeMarcus Cousins is arguably already the league's most volatile player. Prone to fights with opponents and even his own coaches, it would seem his frustrations have now boiled over into conflict with teammates. FanHouse reports that Cousins
has been suspended
for
at least the upcoming three-game roadtrip
following a locker room altercation with Donté Greene
that came to blows
. Perhaps most stunning is the source of the argument. Cousins has reportedly
become increasingly upset
about
Tyreke Evans
' late game decision making and the coaching staff's reaction, culminating in Cousins yelling at Evans following the Kings' loss to the
Thunder
Saturday night, "
from (the) tunnel to the locker room
."
Cousins has already been
fined by the coaching staff
,
kicked out of practice
, and
benched for a premature choking gesture
. In-between he's averaging 14 points and 8 rebounds, grabbing 17% of all available boards, shooting 44% from the field (a huge blemish) and has a league-average-ish PER of 15. He's a player with tremendous upside and ability, who just wants to win. But there are ways of dealing with that kind of passion, and Cousins has expressed all the wrong ones.
The Kings have to find a structure to rebuild around, and if Cousins and Evans are incompatible, that's going to have to be established early. GM Geoff Petrie was right to act quickly and try and snuff this but furthermore, if the Kings decide Evans is the future and they can't rectify this rift, one of them will have to go. Furthermore, Paul Westphal and Petrie will have to figure out if the kid is worth the considerable headache he's providing them by continually being this much of a pain. Good teams can't afford distractions of this magnitude, especially out of a rookie, let alone struggling squads like the Kings.