The Sacramento Kings have listed DeMarcus Cousins as inactive and have not yet decided whether to suspend him following an altercation with a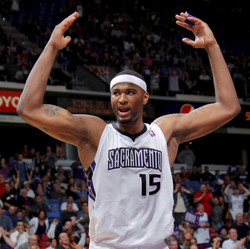 teammate on Saturday night. Posted by Ben Golliver.
This is exactly what scouts and analysts mean when they say a player is a "red flag" during the pre-draft process.
On Saturday night
, we noted reports that Sacramento Kings rookie big man DeMarcus Cousins got into an altercation with teammate
Donte Greene
following the team's loss to the Oklahoma City
Thunder
. Cousins was reportedly upset that he didn't receive the ball on the Kings' final possession and exchanged swings with Greene, who had inbounded the ball to Kings guard
Tyreke Evans
instead of Cousins.
On Sunday, the Kings released a statement that said Cousins would "not play in tonight's game at Phoenix while the organization reviews the situation that occurred in the locker room following last night's game versus Oklahoma City."
Earlier reports noted that Cousins had been suspended, but
Yahoo! Sports reported
on Sunday that the Kings have simply listed Cousins as "inactive" for Sunday night's game against the
Suns
in Phoenix and that any further disciplinary action - including a potential suspension - will not be released until Monday.
The Kings own the worst record in the Western Conference at 12-38, so Cousins' frustration with all the losing is understandable, to a degree. He's a competitive, fiery spirit that wants to help his team win and has faith in his own considerable talent. But SacTown Royalty
brilliantly laid out
the biggest problem with this situation: Cousins wasn't even open on the play in question.
In other words, this was a baseless public tantrum from an immature rookie, one that showed up a veteran teammate (Greene). To make matters worse, Cousins' actions also went against his coach, Paul Westphal, and his team's best player, Evans. Cousins' job in this situation is to flash to the ball and then go rebound if he doesn't receive the pass. It isn't his responsibility to draw up plays, second-guess the plays that are drawn up, or question his teammate's late-game abilities, especially in a manner that is public and/or inflammatory. This is NBA 101 stuff.
The Kings have done the right thing by placing Cousins in timeout as they gather the facts. This incident has the potential to be a crossroads for Cousins, who has a long way to go if he is to become the consistent, reliable player and person that coaches look for when they divvy up late-game touches. Right now, he's just a mess.