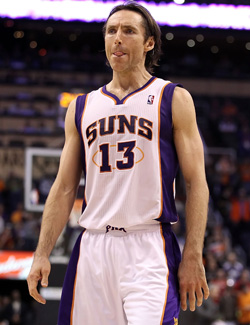 Posted by Royce Young
There's been more and more talk about what could potentially happen with
Steve Nash
in the future with Phoenix. His contract is up in 2012 but at 37 years old, Nash may feel like time is running out.
There was word last week that Nash's agent
Bill Duffy said the point guard was on the block this summer.
Duffy's quote was, "[L]ogic dictates that it would be prudent for the
Suns
to start looking at their long-term future in the summer, so we would expect that they may entertain moving him during the summer. We are ready for that and we anticipate a very respectful process if they decide to look at starting over with a younger core."
To me, that sounds like a nice setup for a clean exit plan. However,
Nash himself told the Arizona Republic
that those comments may have come out of context. And that he hasn't even talked to Duffy about it.
"Sometimes, what's said is in the context of something else," Nash said. "I haven't spoken to him about it. I expect to be here (in Phoenix). I'm happy here. I expect to be here even next year."
Nash is one of the league's most stand up good guys. When he says he expects to be in Phoenix, he means it. He's enjoyed his time there and wants to build a winner with the Suns. But he's not going to be thrilled with being part of a rebuilding project either. Again, he doesn't have a ton of time left. And maybe that's what Duffy was driving at.