As we head into the All-Star break, who's are the pretenders and contenders for the NBA MVP award?
Posted by Matt Moore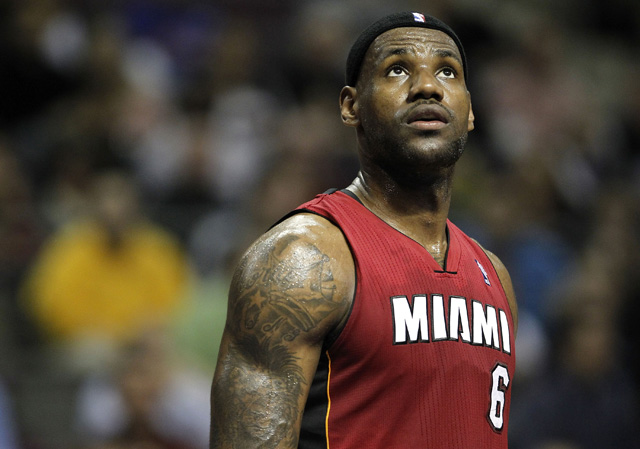 Before we get to our list of MVP contenders and pretenders, check out Adam Aizer, Greg Urbano, and Ben Golliver as they discuss the most underrated and overrated teams in the NBA and more in our weekly CBSSports.com NBA podcast:
This season likely features the closest MVP battle we've seen since 2006. The list of worthy candidates is phenomenally long this season, and every candidate has a strong resume and clear question marks which is why this will end up as a hotly contested race down the stretch.
To be honest, I'm loathe to write this. Anyone whose candidate is excluded will be outraged, but not as much as those listed in the pretenders category. It seems like a direct slap in the face, as if not saying a player is among the very most elite, just the generally elite, is a huge insult. It's understandable. Everyone loves their guy. Worse will be those outraged by my inclusion of certain contenders. Just as some are passionately certain that "their guy" is the MVP, there are candidates that just rub people the wrong way. Some are
Chris Paul
fans who can't understand all the fuss about
Derrick Rose
when CP3 has been around for years. Others are livid over
Amar'e Stoudemire
being in the conversation when
Dwight Howard
is a force at
both
ends of the floor.
The answer to all this? If I had my way, we'd have a ten-way split for Co-MVP. It would be like that episode of "Oprah." "You get an MVP! And you get an MVP! And you get an MVP!" only instead of screaming middle-age stay-at-home moms it would be shrugging 25-30 year old basketball players who don't understand why you're giving them a car when they make over $16 million a year in most cases. The point is that all of these players deserve tremendous respect just for being included in the conversation. And it's entirely possible that some of them really do deserve to win it, or don't deserve to be considered, were there some sort of objective measure. But there isn't. It's a purposefully vague award voted on often by people who have not seen anything close to the entire body of work of all the acceptable candidates. The following is merely meant to be a roadmap based on the likelihood of the voters, featuring the common compliments and detractions for each.
To sum up: don't shoot the messenger. We're all winners in my book.
Contenders
LeBron James:
If there's a favorite, it's got to be LeBron. The reigning two-time MVP is averaging 26 points, 7 rebounds, and 7 assists per game. He's the best player on the second best team in the East, and has shown the abilities that still consistently cause objective observers to label him as the best overall basketball player on the planet. His candidacy continues to improve each month, as he averaged 30 points in January, and is averaging 8.6 rebounds since the start of 2011. Furthermore, Cleveland's horrific turn lingers in many eyes, despite the injuries to
Mo Williams
and
Anderson Varejao
wreaking havoc on Byron Scott's lineups. It's hard to argue against James when his former team went from the best regular season record in the East to arguably the worst team in the league. But there are reasons why James may not get the vote. His numbers, particularly his assists, are down, despite having his superstar teammates. We expected the scoring drop when put alongside Bosh and Wade, but he's having a harder time creating for teammates despite having far superior ones. His efficiency is also down considerably, with a 26.7 PER this season down from 31.1 last year. He may also suffer from the "Jordan effect" where writers get tired of votiing for the same guy over and over again. But the biggest reason, sigh, is of course his image. No one wants to reward James' preseason preening, and considering the enormous expectations put on the
Heat
, it's hard to reward James when he hasn't blown everyone away despite the All-Star teammates he shares the floor with.
Chris Paul:
Paul has been the most efficient point guard on the planet this season. While
Rajon Rondo
leads in Assists, Weighted Assists, and Assist percentage, Paul isn't far behind in any of those categories, and has a lower turnover ratio. He's also better offensively. His (near) return to health has taken the
Hornets
from a lottery team to a team looking at homecourt advantage in the first round in a tough Western Conference, and may have single-handedly pushed the attendance where it needed to be to avoid the lease agreement issue. Paul is still strongly considered by many to be the clear-cut best point guard in the league, in an era where that position is filled to the brim with outstanding talent. The knocks on Paul seem like nit-picking. He simply hasn't been dominant in closing stretches of close games. Too often he defers, and not in the "pass to the open man off the double" way. More in the "here,
David West
, here's the ball, I'll be in the corner, good luck" way. He seems to be struggling to regain his explosivness that he showcased in his near-MVP season in 2008, and has not trusted his floater enough. Paul has had a phenomenal season and is definitely a contender, but the voters will need more in order for him to walk away with the trophy.
Dwight Howard:
Oh, Dwight. If Howard were to play every game on the offensive end as he did Sunday against the
Lakers
, the award could be thrown at his feet during All-Star Weekend. Howard is an extremely divisive figure in the conversation, arguably even moreso than LeBron. LeBron's detractors don't like him, and have good reason not to like him, but finding fault with his game is pretty tough. With Howard, finding fault with his game isn't difficult, but neither is finding evidence that he's the single most impactful player on both ends of the floor. He's still the monstrous defensive presence he has been for the past three seasons, even if
Kevin Love
's astronomical rebound rate has stolen the top spot statistically. Howard is still the most dominant rebounding force in the league. He's able to influence play mechanics and shot selection, he rotates, blocks shots into the ninth row, has terrific awareness and is the biggest reason why the
Magic
are still hovering around homecourt advantage in the first round. Howard has also featured a more expanded offensive repertoire, showing off a mid-range jumpshot to go with his array of dunks. He leads all centers who play 30 minutes a night
in FG% at the rim
, at 75.5%. So what's the hold back? In short, if you absolutely need a bucket in the fourth quarter of a contested game, Howard is still not the best place to go. With all the improvements made to his offensive game, he's actually shooting his second worst free throw percentage of his career. That alone wouldn't take him out of the running, but with the Magic having made several trades to improve the squad and still struggling, Howard isn't supporting them enough on his own to make him the favorite in some eyes. His footwork remains inconsistent, his offensive repertoire still the basketball equivalent of the menu at a baked potato restaurant. You can get it loaded with whatever you want, it's still a baked potato. Howard may be the candidate who suffers most from perceptions rather than facts about his game, and that's saying something with LeBron James in the conversation.
Derrick Rose:
If Howard is most often punished based on feeling rather than fact, then Rose is his mirror image. The point guard who's not an elite passer, the scorer who's not the model of efficiency, but the player who "wows" voters night in and night out. Rose has shown a phenomenal ability to take over games, particularly in the fourth quarter, and with extended injuries to both
Carlos Boozer
and
Joakim Noah
, the
Bulls
' second and third best players respectively, it's been Rose that has pushed the Bulls to be in contention not only for homecourt advantage in the Eastern Conference, but possibly a top-two seed. He's improved in nearly every aspect of his game, from defense, to scoring, to creating contact and getting to the line, which was a concern early this season. He's quite simply been a phenomenal basketball player, even though he's not necessarily dominant in any one area. Rose has found a way to make the necessary play more times than not when the Bulls have a chance to win the game, and his athleticism and explosiveness simply blows you away. All that said, he's a third-year player on a third-place team who's only shooting 45% from the field. Rose being considered a candidate is either a testament to the immeasurable impact his play has on the game, or a case of big-market bias combined with a sentimental affection for a outstanding highlights insteads of empirical evidence.
Pretenders:
Kobe Bryant:
Kobe Bryant doesn't care about this award. Could not give a flip. He cares about the sixth ring, catching Michael, cementing his legacy, sending Phil out on top (or perhaps more importantly, not failing him), and doing it his way. Which means lots and lots and lots of shots. Whether you agree or disagree that Kobe's the source of the occasional Lakers' stalling mid-flight offensively, to argue that Bryant doesn't like to shoot is beyond reason. He leads
all players in FGA per 40 minutes
. All players. Even the end-of-benchers who like to toss it up so as to say they made a few buckets in an NBA game before heading off to the D-League again take fewer shots than Bryant. And that's acceptable. He's the singular best offensive talent of his time. So he'll continue doing what he wants, and scoring, and winning more often than not, in part because he had the unimitigated gall to demand to play for the Lakers before the draft, and has been rewarded with teams of unfathomable talent and a Hall of Fame coach, and in part because he may very well be the second best ball player to ever lace up shoes on an NBA floor. So for Bryant to be considered a pretender should not be taken as some sort of grand insult the way so many consider his exclusion of the award from 2005 to 2007 to be. He's older, he doesn't shoot as well, he doesn't have to try as hard, and
Pau Gasol
is just as much a part of what makes the Lakers great. Bryant is a phenomenal player on the West's second best team, as well as the star of the defending NBA champions who many expect to repeat. None of this makes him worthy of the NBA's Most Valuable Player Award, just as none fo the accomplishments of the contenders listed above make their legacies in any way comparable to what Bryant has accomplished. Bryant's past a silly regular season award. He's playing for points in the game of immortality.
Dirk Nowitzki:
If physically pains me to place Nowitzki here. Did you know that Nowitzki
is shooting 51% from 16-23 feet
? Think about that. As the number one offensive threat for a Western Conference contender, in the most difficult place to shoot from (three-pointers are often set, catch and shoot opportunities with reasonable space from a closing defender), Nowitzki makes more than he misses. That's incredible. What will really shock you, however, is Dirk's defense. He's allowing just 29% FG shooting in the post. He's certainly not defending top-level post players, but that's still incredible for a guy often criticized for his defense. Same with isolation, where he's allowing just 36.4% shooting. (Numbers courtesy of Synergy Sports.) All this and he's helped lead the
Mavericks
to the second best record in the Western Conference. So what's the knock on Dirk? Nowitzki suffers more than any other candidate from the "What have you done for me lately?"card. Nowitzki has already won the award, his team isn't blowing everyone away in their conference, and they're still not taken seriously as a title contender. It's impossible to find an argument with Dirk's play, it's that once again, he doesn't seem to "feel" like an MVP.
Amar'e Stoudemire:
Stoudemire energized New York in the first quarter of the season and was blasting his way through the Eastern Conference. It looked every bit like Stoudemire was going to be a legit MVP candidate this year. But the
Knicks
have fallen off, and as a result, Stoudemire's contributions no longer seem as sterling. Yet he's still averaging 26 points, 8 rebounds, and 2 blocks per game, at or near career highs, and certainly is the most valuable player on a Knicks team that's a lock for the playoffs, even as homecourt slips further and further away. The biggest knock on Stoudemire? Defense. His defensive numbers are average in the post according to Synergy Sports, and there's a widely held perception that he's a terrible defender. It's probably an exaggeration, but without any signature wins over the top defensive teams outside Chicago (ironically the top defensive team), Stoudemire will be hard pressed to get the vote, even with the New York advantage.
Kevin Garnett:
Can a player average only 15 points and win MVP? Probably not, which is why Garnett will likely fail to get many, if any votes for MVP. But he deserves to at least be in the discussion. Garnett shoots 74% at the rim this season, and
46% from 16-23 feet
. He's the unquestioned defensive leader of the most trusted defensive unit in the league, and his work has somehow been even better than usual this year. His explosiveness has returned after last year's recovery from a knee injury, and he has been dominant at both ends of the floor at times. If LeBron James is excused from statistical dips because of his teammates, how about Garnett who plays on the deepest team in the league? Not to mention, how many other candidates can hit someone in the testicles and not get suspended for it? Garnett means more to the best team in the East than any other player. That alone should get him in the room for this discussion. But he's still not individually brilliant enough to warrant the award. The
Celtics
without Garnett could conceivably still be a top three team in the East. Thats' how stacked they are. And much like Bryant, Garnett's presence isn't most felt in the regular season, but in April, when the toughest part of the season comes into play.