Carmelo Anthony was asked about his potential interest in playing for the Houston Rockets. Posted by Ben Golliver.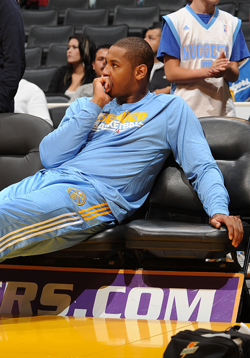 The Houston Rockets dismantled the Denver
Nuggets
on Monday, 121-102. But who cares about basketball when there's a trade rumor angle to pursue?
One oft-discussed alternative if Nuggets All-Star forward Carmelo Anthony does not agree to re-sign with the team and if Denver can't convince him to agree to an extend-and-trade is the rental scenario, whereby a not completely desperate team would trade for his rights for this season and attempt to re-sign him this summer. The usual suspects in these rental rumors are the Dallas
Mavericks
and the Rockets due to the aggressive reputations of their ownerships and management staffs.
Following Monday night's game,
ClutchFans.net caught up
with Anthony to gauge his interest in the Rockets as a potential destination.
"It would be interesting, that's all I can say," said Anthony. "The Rockets are a good team, they're an up and coming team right now. They miss Yao. They're a play-hard team. I'm pretty sure anybody would like to play for that team. Now don't take that the wrong… don't spin that tonight."
With loads of expiring contracts and extra draft picks, the Rockets have the ability to make Denver a fairly compelling package, but would only do so if they believed they had a legit shot at retaining Anthony this summer. Given Anthony's non-committal and somewhat distant answer to the question, and his reported desire to play in the Big Apple, a Rockets rental feels like a distant longshot.
After all, the New York
Knicks
will be lurking this summer as stiff competition for any team that dares take a risk on renting Anthony before the trade deadline.