Boston Celtics guard Delonte West is set to return from wrist surgery on Wednesday. Posted by Ben Golliver.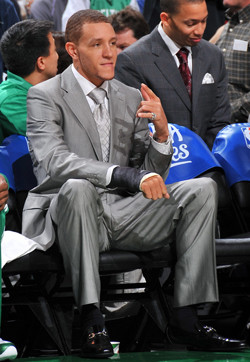 Update (4:34 PM)
: Delonte West went through practice on Tuesday, as expected, but ESPNBoston.com reports that he "tweaked" his wrist and that Celtics coach Doc Rivers told reports that West would undergo additional X-rays. West's expected return tomorrow night is obviously in doubt.
-----------------------------
Back in November
, Boston Celtics reserve guard Delonte West fractured his right wrist, an injury that required surgery and sidelined him for more than two months.
ESPNBoston.com reports
that West will return to game action on Wednesday, when the Celtics face the New Jersey
Nets
.
West participated in the entire Celtics practice session on Monday, and, barring any residual soreness after Tuesday's session, he will be in the lineup on Wednesday, said coach Doc Rivers.
"Delonte's going to play," said Rivers. "The only thing is, obviously, if [Tuesday] he goes through the practice and it gets sore, and then we'll pull him. Because, if it's to a point where it's not right, I'm not going to play him."

The timing couldn't be better for the Celtics, as they just lost wing
Marquis Daniels
to
a bruised spine that has him sidelined for at least a month
. That injury left the Celtics playing essentially a seven-man rotation during Sunday's showdown match-up with the Miami
Heat
. The Celtics still won, of course, but starters
Ray Allen
and
Paul Pierce
were forced to play 43 minutes and 40 minutes, respectively.
West's return will help shore up the team's backcourt depth, giving Rivers a veteran option to supplement the undersized
Nate Robinson
and the streaky
Von Wafer
.
West made just five appearances for Boston prior to suffering his wrist injury, averaging 6.8 points, 1.8 rebounds and 2.0 assists in 17.6 minutes. For his career, West has posted averages of 10.0 points, 3.1 rebounds and 3.7 assists in 28.2 minutes per game.