Posted by Matt Moore
For a while there you were starting to wonder if anything could stop
Blake Griffin
. And I'm not just talking NBA players. Brick walls, atomic weapons, the name of Love, we were running out of ideas as to how to slow down the superfreak. But as the
Clippers
continue their slide back into Clipperdom, nights like Monday night show us if you've got the right defender, you don't have to be eaten alive by the monster that is Blake Griffin.
Griffin shot just 7 of 19 Monday night
in a loss
to the
Bucks
. He finished with respectable 19 and 12, but if you force that kind of inefficiency, you'll take it every time. The biggest reason Griffin was held in check? According to Bucks blog Bucksketball, it was
Luc Richard Mbah a Moute
:
Specifically, Mbah a Moute was able to thwart that famous Griffin spin move on a couple of occasions, poking it away before Griffin could get past him and to the hoop for one of his highlight reel jams that have so often come off spins.
"He got me a couple times too," Mbah a Moute said. "Once he got me, I kind of knew what to do. He does it so well, that it's hard. I kind of do a good job of reading where he's going, knowing his moves, stuff like that."
Anticipation and instincts were the words of the night when Mbah a Moute's defense was a topic. All of the athleticism and studying in the world can make a player a good defender, but sometimes it's the things we can't measure that put a player over the edge and turn him into a great defender. Coach Skiles certainly seems to think that's the difference for Mbah a Moute.
via
Mbah a Moute on Griffin, work ethic and instincts |
.
Here's an example of what Mbah a Moute's talking about, with a little help from a double team.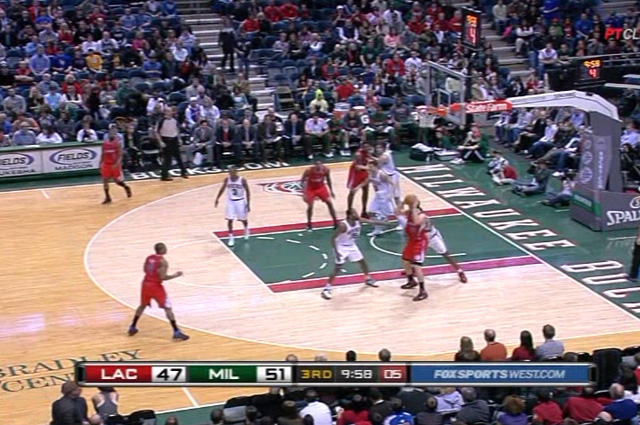 You'll see here Mbah a Moute guarding Griffin in the post, with help coming from Salmons. That allows Mbah a Moute to over-play to Blake's left, hampering his ability to get that devastating spin-move on him. In fact, that spin move is Griffin's only option at this point, unless he wants to try and pivot through, then dribble, which is risky, especially with the help defender available. The result?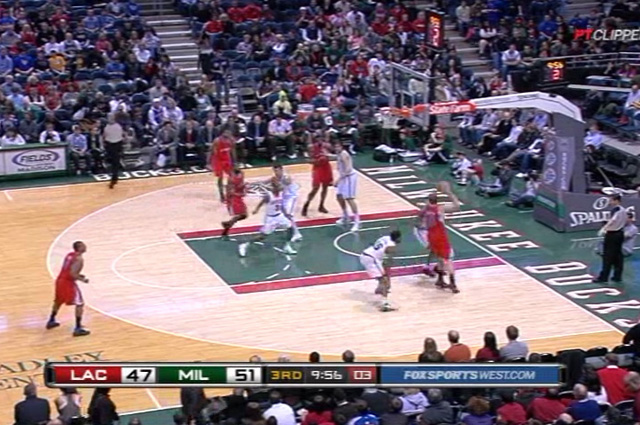 When Griffin pivots Mbah a Moute isn't lagging behind trying to react, he's already anticipated the move and in fact you can see him leaning forward to swipe at the ball in case Griffin tries to dribble baseline past him for the reverse dunk. The result?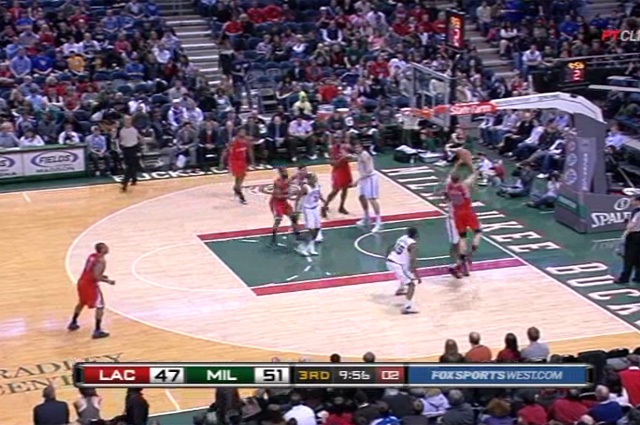 A contested leaning hook shot that clangs off front rim. Look at where Griffin's at when he releases this. He wanted to be much deeper, had in fact originally posted much deeper and had to rest the post because of Salmon's double. Knowing where you're at on the floor, and how to anticipate Griffin's moves is the best way to slowing him down.
Now, when Griffin learns to use that crossover of his to create space out of the post effectively for a spot up? Danger, Will Robinson. Danger. Until then, savvy defenders like Mbah a Moute can have their impact on him, provided he's not going all, you know, Blake-Griffin-y.