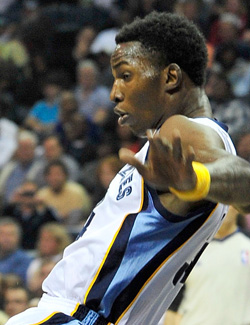 Grizzlies "aggressively" shopping Hasheem Thabeet.
Posted by Matt Moore
The fact that Hasheem Thabeet is still on the market is amazing. I mean, when you have a chance to add a player being paid as a number two overall pick avergaing 1.1 points, with 1.6 rebounds and .3 blocks while shooting 42% from the field with a PER of 4.8, how do you not jump at that opportunity? And yet the Memphis Grizzlies continue to struggle with finding a team willing to take on Thabeet. Because he is terrible.
From the
Memphis Commercial Appeal
:
Second-year center Hasheem Thabeet remains the only piece Griz management is including in aggressive trade talks.
via
Mayo returns tonight, but Griz bench has thrived in his absence » The Commercial Appeal
.
The longer this goes on, the more it's going to become a problem for Memphis. It's not just about getting rid of a drain on the payroll and rotation. Thabeet's presence is a reminder of one of the worst blunders in recent team history (and it's a pretty extensive list to begin with). The team could have had
Tyreke Evans
,
Stephen Curry
,
Brandon Jennings
, even
Jordan Hill
would have been a better pick in 2009. So getting rid of him means they won't have to deal with his restricted free agency and can at least decrease the number of times that mistake is mentioned. Owner Michael Heisley has openly said that drafting Thabeet was his call (which should forever more be used as evidence as to why he should never be involved in basketball decisions), so the ignominy is that much worse.
Thabeet seems isolated in the locker room most times, and Lionel Hollins has elected not to use him in most games this season, even when there's a clear size advantage to be had. Thabeet's not without
any
redeeming qualities. He is tall, and there's a lot of upside there if he could find a coaching system that had the time, resources, and inclination to develop him. Lionel Hollins is not that coach.
The most likely scenario for how this situation ends? Thabeet is included in a deal for
O.J. Mayo
as the price for acquiring Mayo.