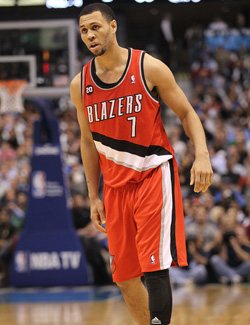 The consulting surgeon for Brandon Roy says he may have only 1-2 years left in his career, even under the best case scenario.
Posted by Matt Moore
Portland fans are starting to get excited again. The team's on a winning streak, have pulled into the sixth seed, and
LaMarcus Aldridge
is the new savior, along with
Wesley Matthews
. And then part of them also feels that Roy's coming back, and no matter what he's gone through, he's still Brandon Roy. He's still the hero that was going to lead them to a championship. Even if he's gone through a lot, you can never count him out. One Blazer fan told me last night: "
Science has to be proven every time to be true
!"
And maybe that's true. But the predictive sciences are not providing a very rosey picture for Roy's future. The
Oregonian
spoke with the consulting surgeon on Roy'smost recent surgery. And the outlook is not good.
The "consulting surgeon" whispers that he believes the best-case strategy for handling Roy is this: A) Limit Roy's practice reps to almost nothing; B) Play him off the bench in 65-75 or so games a season, choosing rest in key spots; C) pray. Surgeon suspects the Blazers might get 1-2 years out of Roy employing this strategy. Right now, I think they'd take that, and hope for the best. Roy is a fierce competitor and I won't count him out.
via
Canzano blog: Emptying my notebook... smack into a LaMarcus Aldridge alley oop | OregonLive.com
.
The article also discusses how a significant oversight would have had to have occurred for the Blazers to have given Roy his most recent extension given the condition of his knees prior to surgery. The questions surrounding the Blazers' training staff continue to skyrocket, even as everyone who works with them personaly vouches vehemently for them.
Everyone wants to see Brandon Roy defy the odds, overcome his condition and take the league by storm again. But if we're examining the most likely scenarios, the odds of him ever being a major impact player again are slim. His game wasn't an "old man" game like
Andre Miller
's featuring set shots. He used his athleticism and physical ability to create his shots. Without any lift due to his knees, getting anywhere near the same kind of production will be extremely difficult. Maybe he can be a bench player who contributes the occasional big game, but consider the kind of precaution the consulting surgeon is the best strategy for Roy. How do you commit to Roy on that kind of salary, trying to rebuild your organization, for that kind of limited production?
No one wants to count out Brandon Roy. But every indication out of Portland is a fearful warning that he may simply never be anything close to the same player again.