The Los Angeles Lakers have reportedly agreed to a 20-year, $3 billion television rights deal with Time Warner. Posted by Ben Golliver.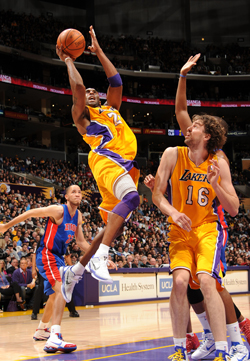 Showtime just got paid in a major, major way.
The Los Angeles Lakers have reportedly agreed to a 20-year television rights deal with Time Warner Cable, an agreement that will provide English and Spanish language broadcasts.
Sports Business Journal has the details
.
Time Warner Cable signed a 20-year rights deal with the Lakers that will lead to the creation of two new regional sports networks in the L.A. market next year. Time Warner Cable will fully own the two new RSNs -- one in English and one in Spanish. The RSNs will have the rights to pre-, regular- and postseason Lakers games starting with the '12-13 season. Fox, which already operates FS West and Prime Ticket in L.A., had been negotiating to keep the Lakers' rights on FS West, and sources familiar with the Lakers' proposal to Fox indicated that the team was looking for a $3B, 20-year deal, which averages out to $150M per year.
It doesn't take a trained media business analyst to realize that this is as an exceptional deal for the Lakers.
What they sacrifice in future negotiating flexibility by locking themselves up for the next two decades they more than make up for in financial security and pure cash. Sports Business Journal notes that the reported $150 million dollars per year figure is roughly five times more than the $30 million per year the team generates in its current deal.
I think that's called "selling high" in just about any industry. With a potential run at a three-peat this season, Kobe Bryant entering the last 1/3 of his career and a new coach likely taking over next season, now was the ideal time to sell, while LA remains at the top of its fame and game.
By comparison, the small-market Portland Trail Blazers signed a 10-year, $120 million contract with Comcast in 2007. The Lakers are set to make more money in one season from their new agreement than they Blazers will have netted in a decade.
As Sports By Brooks noted this morning, this deal also ensures the Buss family can continue to operate the Lakers profitably throughout the duration of the dail, even if current owner Jerry Buss should pass away. A little peace of mind on top of a giant pile of cash is worth its weight in gold.
Update (9:47 PM): In an email Tuesday night, Time Warner Cable disputed the reported $3 billion figure, a number referenced by the Los Angeles Times, Sports By Brooks, and the Sports Business Journal, but said they would not discuss the terms of the agreement.