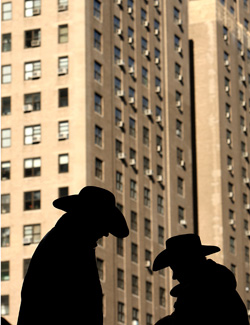 With the Nuggets, Knicks, and Anthony facing off in a trade standoff, we breakdown who's got leverage and how.
Posted by Matt moore
CBSSports.com's Ken Berger today reports on the Knicks' ability to stand fast through this Melo panic inspired by the media and what is probably some manipulation out of the Mile High City. But who exactly has leverage in this situation? Let's try to break it down.
What we've got here is a good ol' fashioned standoff. It's a three-way staredown between Donnie Walsh, Masai Ujiri, and
Carmelo Anthony
. But as this thing heads towards it (please, God, we beg you) ending in the next week and a day, who actually has the leverage here? Because everyone seems to know for sure who's in control of the situation. Let's break down our duelers while the tumbleweeds fly by.
Masai Ujiri
Have you noticed how in the last two weeks there's been a flood of columns, posts, and tweets saying how Denver is willing to not trade Anthony should they fail to get the ridiculously massive set of assets they're looking for? That's because someone or someones in Denver has been pushing this angle like their life depended on it. Denver is really trying to set the narrative publicly that they are not afraid to just wait and roll the dice with getting an extension done with Anthony, possibly leading to losing him with nothing in return. The reason they've been pushing that narrative so hard?
It's their lat bullet in the gun. The phrase "they keep moving the goalposts" is repeatedly used in relation to Ujiri, who has continually pushed trade partners past the point of reason now three separate times. It's been his insistence with trying to get just a little bit more out of every deal that's seemingly done that has led to two deals with New Jersey falling through, and a third with New York on the brink. Ujiri wants to get the most he can out of the most important deal of his young GM career. That's fine. But at some point he's killing off teams' willingness to deal with him, over Melo or his other players, because he's simply too much of a hassle. Ujir knows he's against a wall, with Melo having played the cool, calm, and collected trade target, even pushing a public image of being the victim in all this, and having the ability to simply walk away this summer. Ujiri knows that should Melo simply leave what he's staring at. Aaron Afflalo and
Ty Lawson
are nice young pieces, and Nene is a quality veteran center in this league. Guess what?
Ramon Sessions
and
J.J. Hickson
are nice young pieces, and
Antawn Jamison
is a quality veteran forward in this league. And you see what has become of the palace that now lies in ruins where once King James held court in Cleveland. That's a ridiculously overdramatic piece of prose, but you get what I'm saying. You can have nice pieces, cap flexibility (like the Nuggets will have), and a veteran to build around. But if you lose your star, your superstar, your All-Star? You're taking a monumental step backwards and if you get nothing in return you're looking at the worst of all scenarios, NBA purgatory. Purgatory where you're filling in over-priced veteran free agents trying to squeeze together a playoff team around a support structure without a star.
Ujiri is determined to play this to the bone, and he's definitely done that so far. But we've seen his prospective return value drop, and then drop again. He went from three firsts,
Devin Harris
, and
Derrick Favors
, to now trying to weasel out a pick from where there is none to pull. Were this a simple trade situation for a star on a long-term contract, he wouldn't have this problem. A trade with Houston, with young players, talented veterans, expiring contracts, and multiple picks, including the Knicks' in 2012. A trade with Golden State, or Dallas. But those options don't exist, because at the end of the day, Anthony has played this well, and shown that he's perfectly willing to lose money to avoid playing somewhere he doesn't want to be. Luckily for Ujiri, part of him is still okay with the idea of signing with Denver. But if they keep playing hardball, how long's that going to last?
Ujiri is shaking his gun and making threats all over this faceoff. The problem is, the other participants know that gun's almost empty.
Donnie Walsh
So what of Walsh? Why isn't he scrambling for trade partners, mortgaging the future, trying to rip his own nails out to get Carmelo Anthony? As Ken Berger of CBSSports.com reports Wednesday: he doesn't have to. Walsh is well aware that he's the only one negotiating with Denver, that the odds of Mikhail Prokhorov entering the fray at the last minute while swallowing his considerable pride are pretty low. Walsh knows that in free agency, he'll have more than enough to cover Anthony regardless of how the CBA works out (as a source told Berger, "I don't care what the cap comes in at, they can get the guy. I've done the math a million times.") Walsh isn't scrambling because he doesn't have to. He'll sit back, offer reasonable packages for Melo based off of what the Knicks can offer without sacrificing too much, and sit back. If Denver decides to call the bluff and not trade Melo before the deadline, and Anthony responds by running scared to the sure money, how will Walsh respond?
He'll just go back to work. If Walsh misses out on Melo, he'll work to build depth with his newfound cap space following
Eddy Curry
's contract expiring, then wait for 2012. You know, 2012, when
Chris Paul
,
Deron Williams
, and
Dwight Howard
could conceivably be free agents. Carmelo Anthony is not the only All-Star fish in the sea. Walsh has been around a while. He's not going to overreact or over-extend a franchise that habitually over-extended itself for years, causing the whol mess in the first place. He'll be patient, while opportunistic. There's this feeling that the Knicks are a failure because they're not ready to compete for a championship. But this Knicks team wasn't assembled around a 2-3 year window. It was built for long-term sustainability. The cost of that is patience and a deliberate approach. Not selling the barn to get the cow.
This is a no-lose for the Knicks, no matter how Denver is trying to spin it, or how the New York media is freaking out for it. Get Melo, add a superstar, advance the process. Don't get Melo, add more support, focus on 2012. The Knicks have the money, the market, and the minds. As long as Dolan doesn't oo off half-Zeked, they're set no matter what.
Carmelo Anthony
Oh, Melo. It sounded like such a good idea back in the summer, didn't it? Get traded to a a big market contender, have the life your friends in Miami are enjoying, get the extension for long-term financial stability, go back to playing ball only in a bigger spotlight. Must have seemed like such an easy dream to pursue. Unfortunately for you, the Nuggets have at once played this brilliantly and terribly and the result is the pressure being back on you.
The new angle is "Oh, Melo better sign the extension because he could be financially ruined if you don't!" Except that Melo is still making tens of millions of dollars no matter what. Year in, and year out. Melo
did recently say
"If I sit here and tell you I'm willing to lose $15 to $20 million, then I'd be lying to you." But that ignores a number of factors. Like the amount of money he'd make from non-basketball ventures in New York compared to Denver. This isn't a knock on Denver. It's a major market. It's just not New York. The money is simply better there. It's the same principle as to why the
Lakers
got billions for their TV deal. It's just market economics. Furthermore, everyone seems to be still glossing over the fact that if Anthony signs the extension, it could get rolled back. Then he'd be making the same money he would have been in New York, only for a team he doesn't want to play for in a market his wife's not big on on a team that's not contending for a title.
Good times!
Anthony has played this as cool as a cucumber so far. He hasn't exposed himself as being desperate to be traded or to get the extension signed. Hes' been very reasonable and cool with his approach. Anthony doesn't in fact know what's going to happen. That's why his situation differs so greatly from
LeBron James
' and
Chris Bosh
's this summer. Those guys knew what the variables were for their entrance into the free market. Melo has too many variables to count. The CBA could impact his current contract, his future contract, the cap space for free agent suitors, the Nuggets, the contract length, and all of this is before we approach the possibility that if he doesn't get moved, the Nuggets could slap a franchise tag on him if that gets implemented.
Melo has control over this situation, but if he cracks just a bit, it could be the kind of mistake that haunts him for the rest of his career. There's no easy answer here.