The Denver Nuggets and New Jersey Nets have reportedly re-opened Carmelo Anthony trade talks. Posted by Ben Golliver.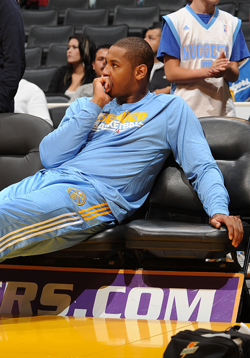 This was bound to happen eventually despite the hardcore bluffing. The Denver Nuggets and New Jersey Nets have reportedly re-opened trade talks for Nuggets All-Star forward Carmelo Anthony although there are conflicting reports about which side initiated conversations.
The Bergen Record reports
: "According to sources, the Nets and Nuggets have talked recently about Carmelo Anthony. Not sure who initiated the conversations, but they have spoken recently."
Yahoo! Sports reports the same
.
Less than a month after the New Jersey Nets pulled out of trade talks, the Denver Nuggets have re-engaged the Nets in discussions on a blockbuster deal for Carmelo Anthony, league sources told Yahoo! Sports.
One source described talks as "progressing" and said they have been ongoing between Denver and New Jersey officials over a week. While the precise package being discussed was unclear, sources said talks have centered on a scaled-down package that still includes rookie forward Derrick Favors and draft picks.
Ken Berger of CBSSports.com
reports
: "Person familiar with Nuggets-Nets talks describes them as "exploratory" on Denver's part. On scale of 1-5, source says, 'Back to level 1.'"
ESPN.com reports
: "Sources say Denver and NJ began Melo trade talks again about a week ago. Source says NJ 1st to reach out. No meeting between Melo & NJ set yet."
Back on Jan. 19
, Nets owner Mikhail Prokhorov dramatically pulled his franchise out of the Anthony sweepstakes, stating that he was unhappy how the negotiations had been handled.
As recently as Monday
, the two sides had reportedly not yet re-engaged.
The Nets, of course, had reportedly put the best offer on the table for Anthony, a deal that included multiple draft picks, cap relief and a promising young big man in Derrick Favors. The offer fulfilled all of the requirements for a best case scenario for Denver: get good value, get assets, get younger and save money.
The biggest issue, as always, is whether Anthony will agree to sign an extension with the Nets. If not, the Nets' desire for him and their offer will diminish considerably. As the deadline has gotten closer, however, Anthony has had to confront the possibility of entering the summer without a lucractive contract extension. Perhaps that pressure will make him take a second look at the Nets?