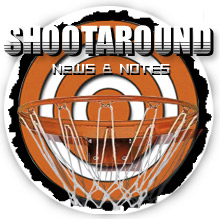 Michael Jordan a player-owner? That plus Lakers reeling, Celtics laughing, and the status of ownership in sports, in today's Shootaround.
Posted by Matt Moore
A nice look at Mike D'Antoni in another role watching basketball: a
s a father
.
Owners are people who were smart in business who are sports fans, so they
think they're smart at sports
.
Speaking of owners, Cuban says that
owning a team right now is a "vanity" venture
. Which sounds about right given the tough economic conditions and the state of profit across sports.
Panic
in the streets of L.A.. Mike Bresnahan nails the current state of the Lakers. Basically, if they win the championship, forget this loss. If they don't, this was a sign of trouble. You just never know with this team.
No, for real,
who gets Jordan's number wrong
?
It would appear
that
Willie Green
has finally usurped
Marco Belinelli
's starting spot. Just six minutes for "Belly" in Wednesday's loss to the Blazers.
Chris Paul
is seriously struggling, to the point
where it's time to start looking at when he's going to be "back.
"
Carl Landry
hopes
he's not traded at the deadline
.
Oh,
now that's just mean
.
SI examines the implications of Michael Jordan:
owner-player
.