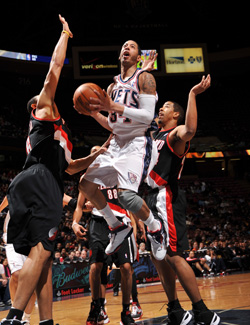 Report indicates Nets and Blazers discussing swap involving Andre Miller and Devin Harris among other pieces.
Posted by Matt Moore
Devin Harris has been talked about in trade rumors which would ship him to Portland for months. He was
part of one of the first Nets-Melo deals
back in September. He
was discussed in the second deal
as well, with the idea being Denver would then ship him to Portland for
Nicolas Batum
. So the Blazers obviously have some level of interest in him, and the word's been out for a while that they would like to move Andre Miller. Which means that the latest report out of the
Bergen Record
has some immediate weight, as it suggests there have been talks already between Portland and New Jersey recently for just such a swap. From the
Record
:
The Nets and Blazers have exchanged trade proposals and still are discussing a deal. Harris and veteran point guard Andre Miller are the main pieces, but more players are involved, multiple NBA sources said.
It's doubtful the Nets will trade Harris, who turns 28 in two weeks, straight up for Miller, who turns 35 next month.
The Nets want to expand the trade and are trying to include disappointing free-agent signing Travis Outlaw, who began his career in Portland. The Blazers are interested in shooting guard Anthony Morrow.
via
Nets, Blazers talking about Devin Harris deal - NorthJersey.com
.
The report goes on to suggest that the Nets have also brought up
Rudy Fernandez
and
Joel Przybilla
in the talks. Harris has struggled since his first season with New Jersey, which showed a lot of promise. Harris is still considered a "young" point guard despite turning 28 this month and has more athleticism than Miller (because he has any athleticism at all at this point). Harris is the biggest value chip that the Nets have, and the Blazers have multiple assets they could be looking to move, so this one makes a lot of sense. The Nets could easily move Harris and pull in Przybilla to finish out his expring season, and then swap out
Troy Murphy
or buy him out to create even more space.
And yet.
Miller has been a huge part of
LaMarcus Aldridge
's explosion into stardom this season, lobbing to him several times a game. Miller's also been vital for their overall success and is a key component to their playoff run. Harris is likely the better player, but the old "If it ain't broke, don't fix it" axiom is in play here. If the Blazers want that playoff money, keeping Miller is a safe bet. Similarly, Rudy Fernandez after complaining for months about wanting to leave the country all together, has played fairly brilliantly for the Blazers. Will the situation be the same if he goes to a losing squad?
Adding Morrow would be a great get for the Blazers, as he would provide balance with Aldridge and perimeter scoring by the handful. This is the kind of move for the Blazers that could upgrade their talent and clear their books, without having to take a step backwards towards rebuilding, which the franchise is hesitant to do, still.
But where does Morrow fit in with
Wesley Matthews
and
Brandon Roy
? And for the Nets, why take on Miller knowing you'll just be left trying to find another point guard next year (assuming they drop Miller's last year which is non-guaranteed)? There are questions in this deal to be sure. But it's clear that Portland's interested in Harris, and the Nets want to deal. There may be some fire to this smoke.
Or, you know, it's yet another trade rumor. It's that time of the year, really.