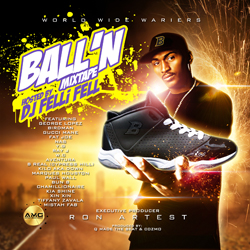 Artest responds to embarassing loss to Cavaliers by dropping mix-tape.
Posted by Matt Moore
Even though NBA players are numb to the grind of the 82-game season, some losses really make you sit down and evaluate your play. For example, the Los Angeles
Lakers
' loss to the lowly Cavs Wednesday night no doubt inspired a team-wide understanding that such an effort is not acceptable. It probably took the players until today to be able to put that one down.
Or not.
Ron Artest
, surprise surprise, took to
Twitter last night following the game
to really deal with where the Lakers are at in the season. And by that I mean "
to drop a mixtape no one really cares about
." Artest tweeted a link to the promo following the game, then commented on the loss saying he "
wished (he) could have helped more
."
But then on Thursday, he actually really focused on improving going into the All-Star Break. Which is why he
shared this promo
for the party he's holding this weekend! Yeah!
This is just fun and games since these things were planned well in advance of the Lakers' debacle in Cleveland, and after all, it's just one game in February. As always, this team underwhelms when faced with adversity, but in the end, will always have the payroll to provide the talent necessary to make a run for the title.
Of course, whether or not Ron Ron is a Laker by this time next week is a whole other question.