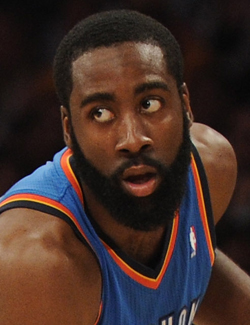 James Harden replaces Tyreke Evans in Rookies-Sophomores game.
Posted by Matt Moore
The NBA announced today that James Harden will replace Tyreke Evans in the Rookies-Sophomores game (the "T-Mobile Rookie Challenge") on Friday. The announcement is no big surprise considering Evans' injury history this season. He's suffering with plantar fasciitis, which doesn't really heal except with time and rest, two things not afforded franchise point guards. Evans has missed the past two games for the
Kings
with the injury, and realized he needed the time off to try and get a leg-up, so to speak, on rest for the second half of the season.
For Harden, he should have probably been on the squad in the first place. Harden's numbers are pedestrian (10 points, 3 rebounds, 2 assists), but he's the composite role player, who defends, hits from the perimeter and helps the Oklahoma City offense function to the best of its ability. Plus, he's got that sweet beard.
The advantage was thought to lie with the rookies regardless, due to, well...
Blake Griffin
. But with Evans out, the weight shifts even more significantly to the Rookies' advantage. But on the flip side, this is a huge opportunity for
Stephen Curry
to step up, or, please, Lord,
Brandon Jennings
to show something comparable to the potential he showed in the first half of last season.
This game gets almost no play, but it also always features one player taking over in a spectacular way. Chances are it won't be Harden, but he'll still be a worthy representative.