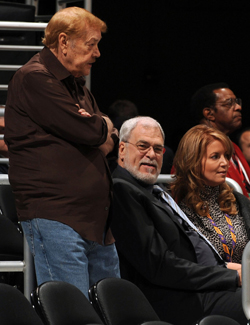 Could coaches and excecutives be facing limits to their salaries as the NBA labor restructuring process unfolds?
Posted by Matt Moore
Sports Illustrated
reports today the CBA talks and financial restructuring of the NBA and its business policies will not only impact the relationship between ownership and players. It may influence the creation of an informal cap structure for both coaches and executives. From
SI
:
The players aren't alone in worrying about the values of their future paychecks. Several coaches and team executives have told me they believe they'll be threatened with a major cut in salary next season as part of a new cost-savings approach that will affect all areas of NBA business.
"The players are going to require it," said a team executive with knowledge of the owners' agenda. "The players aren't going to accept a rollback of 35 percent, and then allow some team to pay Phil Jackson $15 million."
Two team executives predict that each team will be given a standardized budget (not yet determined, but let's say it's $4 million per team) from which to pay the entire coaching staff, and another budget to cover the salaries of the entire front office. Because there is no collective bargaining agreement between owners and coaches or front-office employees, the owners won't be able to cap their salaries. However, the league could attempt to punish teams that "overpay" coaches by refusing to share certain revenues with them, in much the same way that high-spending is prohibited from receiving their share of revenues from the luxury-tax pool.
via
Salary cuts, coaches' pay to come into play at NBA labor talks - Ian Thomsen - SI.com
.
Well, then.
This escalates things significantly.
SI
also reports that coaches are concerned for their pensions. And those pensions are the line in the sand for the coaches. One coach tells
SI
there will be a coaches walkout, which should surprise no one.
A significant key here is that this is a feeling among coaches and executives, not coming from the league. While a league representative has shown significant interest in coaching contracts, this isn't a league-leaked initiative. Which means it could be a phantom concern. But if it's real, this isn't just a fear for coaches and execs, this is a legal apocalypse waiting to happen. You're talking about an unmandated policy being enforced by arbitrary revenue dispersal. Trying to shove that through would be like rolling out a welcome mat to the mongol lawyer hordes waiting behind every coach's representative agency.
It make sense within the context of the NBA's rather significant initiative to completely revamp the costs of doing business in a league that sees little to no profit for a significant portion of its representative owners, but the same issues will arise here as they do in the player talks. At what point is the balance struck for owners between curbing salaries within their industry and maintaining the ability of their more fortunate representatives to commit whatever resources they choose to winning? Or, to put it another way, are the Jerry Busses of the NBA going to be comfortable with a situation which decreases their advantage in inking coaches like Phil Jackson? But even that isn't the largest quarrel that will be raised here. It's the same one at the heart of the labor talks.
At what point is ownership responsible for the decisions it makes?
That's the central point in this. If a coach elicits $5 million per year, and an owner is willing to pay him that, why should there be a ceiling to what that coach can be paid? Isn't it up to the owners to show discretion in spending, and won't that be the most effective way to curb salaries? The NBA and its owners are seeking to set up guidelines, fences, controls to keep the spending beasts penned in. But in a situation like this, coaches, who often have the most stress of anyone in the league, will be faced with the question of why their money is being trimmed while player salaries are guaranteed? Finally, again, those pensions are the lifeblood of the coaching fraternity. If the coaches have any ability to organize themselves, they'll put everything they have in front of those pensions to protect their futures.
The next six months look bloodier and bloodier by the minute.