Derrick Rose, Stephen Curry, John Wall, Russell Westbrook voted to challenge Chris Paul in Skills Competition. But is Rose the favorite over even Chris Paul?
Posted by Matt Moore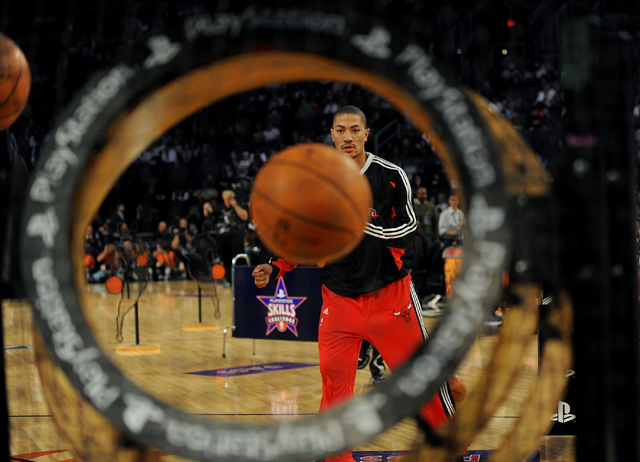 The fans have spoken, and they've spoken for the young guys.
The NBA announced Thursday night that Derrick Rose, John Wall, Stephen Curry, and Russell Westbrook have been voted in to join Chris Paul in the Taco-Bell Skills Competition on NBA All-Star Weekend Saturday Night. The crew represents a young field of challengers, with Curry the oldest at 22 (by only about a few months over Rose and Westbrook, also 22), and Wall the youngest at 20.
When we broke down the odds on these guys winning
, we just about nailed it, factoring in
Tyreke Evans
' foot injury which will keep him out of this weekend's action, and putting aside our irrational love of
Tony Parker
as a spoil sport for the high flying kiddos.
Given Chris Paul's recent struggles which may or may not be injury related you have to think Rose is the favorite here. That's odd to think about considering how he's probably the least "point guard"-esque of the star guards in this league. Stephen Curry is likely the sexy sleeper pick and John Wall the underdog because of his three point shooting (31% from the arc). The fans did right in this one, stacking the competition with young, charismatic guys they want to see instead of rewarding veterans for their history of excellence.
After all, that's what Sunday's for. Isn't that right, Mr. Aldridge?