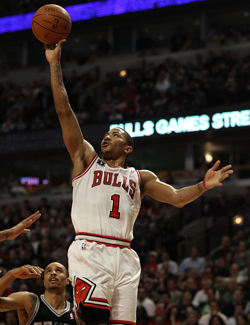 Derrick Rose takes over to beat Spurs with 42 points and 8 assists. What is it that makes him not only so good, but different from the other elite point guards?
Posted by Matt Moore
When Derrick Rose
said that this game was a "statement" game
, he apparently had more than one thing he wanted to make a statement about.
"The
Bulls
are good enough to beat
the Spurs." Check.
"The Bulls are a legit Eastern Conference contender." Check.
"The Bulls will rise to the challenge when facing the great teams." Check.
"Derrick Rose is an MVP candidate." Check.
The Chicago Bulls have improved in a lot of ways this season, particularly defensively. They're a more complete team, have better perimeter scoring, better interior defense, a legit post presence in
Carlos Boozer
, and a better knowledge of how to execute in key situations. But Thursday night the biggest reason for their improvement was clear: Rose. Rose dropped 18-28 from the field, lobbed 8 assists, grabbed 5 rebounds and had but one turnover against the Spurs, a virtuoso performance which encapsulated his best attributes.
There are so many great point guards in this league and everyone has their own favorite. Recently Royce Young argued that
Chris Paul
was still
rule of the roost
, but that Rose was on his way. However, tonight's performance served as an excellent example of what makes Rose so transcendent. He's blessed with a point guard's skills and a small forward's ability. His scoring ability is elite, there's no question of that now. Typcially this season, Rose's three-point shot has been on and his mid-range jumper has struggled. Against the Spurs it was the opposite, as he went 0-4 from the perimeter but nailed all but two of 13 jumpers inside the arc. That range forces the defense to step up, at which point, said defense is ruined, along with said defense's mother, face, and hope for the future. Rose showcased a floater that is as good as any player in the league, often off jump-stops or pump fakes, creating and-one opportunities.
Rose's eight assists, though, don't come like
Rajon Rondo
's twisting, turning exploitations, or Chris Paul's seamless extensions of the offense like it was a part of him. Instead, Rose continually finds assists where there are seemingly none to be found. He is often credited with things described as "winning plays" and "big-time plays." In reality, this is a reflection of his ability to convert on low-percentage situations. Against the Spurs, Rose swung passes over triple-teams from defenders trying to stop the gushing wound caused by Rose's dribble penetration. The result are wide open threes. Whereas Rondo and even Paul to an extent, create scoring opportunities with the threat of their passing ability, Rose creates passing abilities through the onslaught of his offensive repertoire. Essentially, he gouges you until you try and protect the wound, then he hurts you where you're revealed yourself.
For the Spurs, it's a downer going into the All-Star break, especially because of the defensive implications. For a while Gregg Popovich has been harping on the defense, and in a situation against an amped opponent who was willing to work even on the last game before the vacation, they found those problems amplified. The Spurs are a fantastic team with just ten losses. But if they don't improve their defensive ability, it will all be for naught.
And for Chicago?
Luol Deng
played great. Carlos Boozer was solid when he wasn't getting blocked by
Tim Duncan
, and the Bulls' wings did a nice job on
Manu Ginobili
. But the statement in reality is fairly simple.
Derrick Rose hasn't just arrived. He's taking the next step, and that's what should leave the rest of the league petrified.