Posted by Royce Young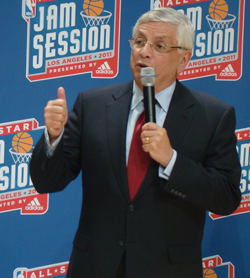 LOS ANGELES -- David Stern kicked off All-Star Weekend at the Thursday evening Jam Session, saying some nice things about the city, the convention center and whatever else. After he wrapped up there, he spoke with a handful of reporters and went over the usual itinerary. Collective bargaining, lockout, collective bargaining and more collective bargaining.
There will be a meeting Friday
with even some big players showing up.
But Stern said that it's not a negotiation session, but more of a "get together."
"What I'm really hoping the most relevant it could be is that both parties agree that we've got to get down to hard work," Stern said. "But with that many coming it's really more of a goodwill gesture and a show your resolve gesture for both sides."
Stern said the meeting is mainly because "the players really wanted it." He also said the original target was for Monday morning because as he put it, the league didn't want to turn it into a "sideshow." But that didn't work out logistically, so it'll be Friday.
In terms of a lockout, Stern said he wasn't pessimistic nor optimistic.
"We will get a deal done eventually. We would like very much to get a deal done before any damage is done but we'll see how that works," he said.
Stern was asked about the
Carmelo Anthony
situation and if it's kind of becoming a negative for the league. And Stern agreed.
"Yes. Honestly, it can't be helpful. We're getting to the place where the sport is so popular now and the ruminations about it in the media are so over the top, that if a player doesn't sign a new contract the speculation begins. In fact it's now gone to the next level. Poor
Dwight Howard
. He's out there playing his head off and the media's 'Oh where is he going next year?' What is that all about? It's ridiculous."
So the question was begged: Is there anything the league could do to help quell some of that speculation?
"I have some great ideas, but it would be less employment for the fifth estate," Stern joked. "It's what we live with. It's what we do."