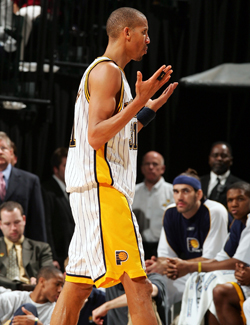 Report: Reggie Miller fails to make cut for Hall of Fame finalists despite stellar career.
Posted by Matt Moore
Indiana is not having an awesome sports stretch. Watched Duke best local heroes Butler in the Final Four, just months after watching Drew Brees do his thing on Peyton Manning. But nothing is really going to match the outrage that's likely raging across the Hoosier State this morning.
The
New York Times
and
Yahoo! Sports report
that Reggie Miller failed to make the cut of finalists for the Naismith Basketball Hall of Fame. Which is, you know, kind of insane.
Miller held the all-time record for three-pointers until a week ago when
Ray Allen
rained down. Miller played 18 seasons, all for the
Pacers
, back when guys still played their entire career for small-market teams. He was a 5-time All-Star, an Olympic Gold Medal winner, and is 17th All-Time in points scored in his career. Throw in all the huge moments, the fact that he's the reason we use the phrase "
8 points, 9 seconds
" (not
just a blog
, friends!) and
make choking signs at Spike Lee
, it's really hard to see where the voters were coming from on this one.
The other candidates certainly had some worthy selections. Tex Winters, Dennis Rodman, Don Nelson, Rudy Tomjanovich, and Dick Bavetta, and Spencer Haywood are all strong candidates. But outside of Winters and Nelson, who provided long-term contributions to the game that can't be replicated, is any of those candidates necessarily more worthy than Miller? Rodman is a top-three rebounder of all time, if not the best, but is also more known for his... ahem, eccentricities and was able to mosey on over to ride Jordan's coattails to titles. Hard to pinpoint that Miller wasn't his superior in overall play.
The knock on Miller always comes back to the idiotic championship question. As if a player's singular talents can impact the dozens of things necessary for a player to win a championship including but not nearly limited to luck. We're not even talking about actually being voted in, here, we're just talking about making the cut. Voters didn't think that Reggie Miller, despite his place in the game's history, had enough to even warrant being a finalist. It is at this point we're reminded that no Hall of Fame is run under an adequate system.
Miller's numbers don't leap off the page, a career 18, 3, and 3 guy. But in his peak he was what made the Pacers a Finals contender and right up until his final season, he was part of what made the Pacers contenders.
But that's all for naught, as he'll have to wait another year.