A statue for Los Angeles Lakers guard Jerry West was unveiled at Staples Center on Thursday. Posted by Ben Golliver.
During a ceremony on Thursday afternoon, a statue of legendary Los Angeles Lakers guard Jerry West was unveiled outside of the Staples Center. The ceremony last for more than an hour, and included statements from NBA commissioner David Stern, legendary Boston
Celtics
center Bill Russell, legendary Lakers center Kareem Abdul-Jabbar, Hall of Fame center Bill Walton, Lakers GM Mitch Kupchak, Lakers owner Jerry Buss and appearances from Lakers great
Magic
Johnson, Lakers big man
Pau Gasol
, former Lakers assistant coach Kurt Rambis and Miami
Heat
president Pat Riley.
In typical L.A. fashion, fans and many media members were cordoned off from the ceremony and VIP seating areas. To accommodate hundreds of interested Lakers fans, many of whom showed up in West or other Lakers jerseys, the presentation was televised on a giant monitor on the side of the Staples Center. Lakers founds loudly cheered for the current and former Laker greats; some even booed Russell, who was
given the President Medal of Freedom
this week, when he was first introduced. (Later, when Rusesll rose to speak on West's behalf, he received polite applause.)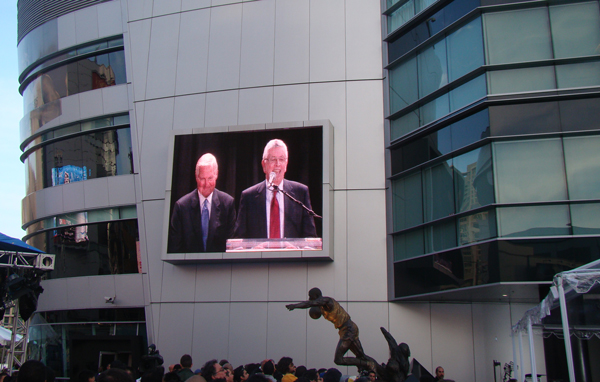 After everyone - and I mean everyone - had a chance to honor West with personal vignettes and tributes to his importance as a player, executive and man, a curtain was dropped to reveal the statue, which shows West attacking off the dribble, in a pose similar to the NBA's logo.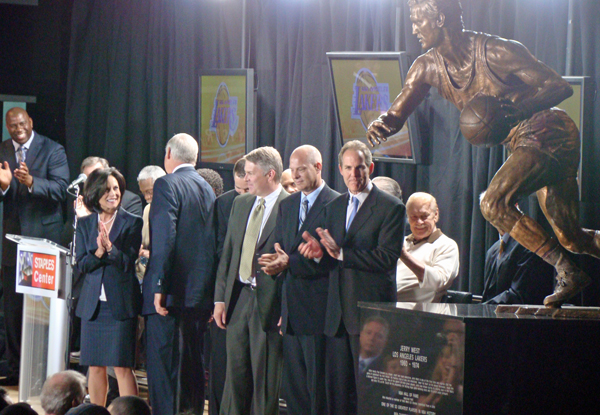 The statue, which organizers say weighs 1,500 pounds and stands almost 14 feet tall, joins similar statues previously dedicated to Magic Johnson, Wayne Gretzky, Chick Hearn and Oscar De La Hoya.