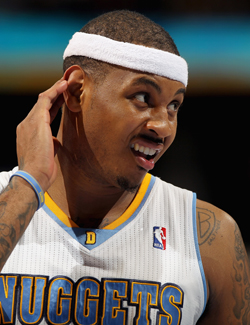 Report says a tentative Nets-Melo deal is in place, but as always, Melo still has to agree to extension which he has resisted for six months.
Posted by Matt Moore
The
Bergen Record is reporting
a tentative deal is in place for
Carmelo Anthony
to become a Net, pending Anthony's agreement to an extension -- a piece of paper that has become the most ballyhooed document outside of Congress.
The deal is the same
Ken Berger reported on Thursday evening
and
we discussed Thursday afternoon
, reported now by the
Record
,
ESPN
, and Yahoo!. It features the
Nuggets
getting
Devin Harris
,
Derrick Favors
and
Ben Uzoh
, with a third team taking on
Troy Murphy
. No one's figured out a third team to take Murphy, so either the deal isn't as tentatively "done" as the
Record
is reporting or the teams are agreeing to a deal that assumes something they can't really count on. Again, no surprises there, considering how botched this process has been from the beginning.
So again, the ball is in Melo's court.
Berger reported early Thursday that no talks have been scheduled between Melo and Nets owner Mikhail Prokhorov nor with
Knicks
owner James Dolan. That could change between now and Thursday's media availability, for which we'll have full coverage.
For Prokhorov to take this meeting is in and of itself revealing of his attitudes as an owner. Apparently enough was not enough. Despite Masai Ujiri playing with the Nets for up to six weeks, agreeing to deals then backtracking and wanting more, the Russian mogul is about to get in bed with Denver again, only this time he's giving up the largest collection of assets yet. It may be the best thing for his business, but you have to wonder how he'd feel about it were he to step back and realize how badly he's been jerked around so far, assuming these reports are accurate.
Anthony, however, isn't running into this arrangement with open arms. He's having to be convinced to meet with the owner of a National Basketball Association team in a major market that's looking to build a championship around him. If he's convinced, it won't be his whole self that is convinced -- it'll simply be an understanding that this is a compromise that features two of his goals: to play in a bigger market and to get the extension before the CBA is renegotiated.
And what will be left to help him after the Nets trade away nearly a third of their team? Billups, Vujacic, Humphries and Lopez, with Morrow, Farmar, Outlaw and
Stephen Graham
off the bench. GET EXCITED, NEW JERSEY. For the remaining year you have before the team bolts to Brooklyn.
This situation is as perplexing as ever, and should it fall through, Donnie Walsh may need oxygen because he'll be laughing so hard.