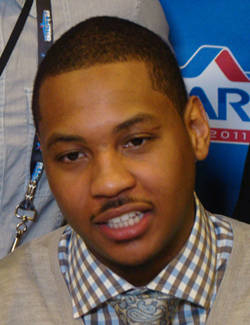 Carmelo Anthony speaks at All-Star media availability, and affirms no meetings scheduled with Nets or Knicks. Melo says he's "ready for this whole thing to be over."
Posted by Matt Moore
In front of one of the largest media assemblies at All-Star Media availability, Carmelo Anthony faced the throng to speak about his current situation, while rumors fly as heavy as any in recent memory. Ken Berger of CBSSports.com was there to capture Melo's
quotes in our live feed
.
As he played the verbal tango with the media, Anthony made one thing clear: he's tired of all this. ""There's some things that I'm still thinking about in the back of my head. I'm ready for this whole thing to be over with," Melo said, as he reasserted that he
had not scheduled meetings
with either the Nets' or Knicks' representatives. His frustration with the situation was evident behind his usual (this season, anyway) cool, collected demeanor. "I'm mindboggled right now about this whole situation," he said. "I just want to get this thing over with right now. I wish there was just something, a legit offer on the table and the
Nuggets
can say, 'Let's get it done.'"
He did say however that an extension with the Nets, the matter
which is reportedly holding a nine-player deal in pending
, is not off the table. ""That's something I'm going to have to think about," but he noted "there are a lot of things that come into play when dealing with that. The superstar was very clear that he wasn't going to get boxed into any decision, and that staying in Denver is still a possibility.
"I've told you guys this since day one, that's still an option," Melo said in regards to the possibility that he would re-sign with Denver. He reasserted that he's said that continuously since the summer, while of course omitting that he's also turned down the opportunity to sign that extension since July. However, he did say he hadn't talked with Denver in months about that possiblity. "I haven't had that conversation since November or December, it doesn't surprise me. It just tells me what they're trying to do, obviously they're trying to get younger and save money over there. At the end of the day, it's a business so they've got to make a business decision. And I've got to look at it as my career and as a business decision."
"I can't really sit here and say I want to go here or I want to go there," Melo said on his preference between New York and New Jersey, remaining coy while admitting that he was "pretty sure" the Nuggets were negotiating with N.J., giving a little weight to the reports of the past day while still feigning ignorance. Melo did say he was examining the possibility of being traded without an extension. "It's a lot of situations that I look at. If the Nuggets came to me and said, 'This is a deal that we have, this is another deal that we have', I would have to look into that if my option is not to sign."
But the idea of being a "rental" as Melo referred to it, should he be traded without an extension, does not appeal to him. "Unless they're trying to get car services and want to rent a car. I really don't want to have to be a rental. I don't feel like I'm a rental player. I don't want to go somewhere and be a rental for two months and then have to deal with this all over again. I dont want to go there."
For all the talk that Melo is the one who can control his destiny, he says that Denver has just as much control over where he ends up. While he can tell the Nuggets where he wants to go, Anthony says it's still their job to figure out what's best for them. "They have to do what's best for them and their organization, too. So at the end of the day, they can say, forget it, we have to take care of our organization, Melo. He did what he had to do here for eight years, but we have to do what we have to do, too."
Anthony said that the Knicks have a different situation from the Nuggets, because in Melo's mind, the Nuggets are looking to rebuild, while the Knicks are already ready to win. "Far as building, which the Nuggets are trying to obviously do in their near future they're trying to start all over and build up – and don't try to flip it on me – but New York already has something there. I think the city is looking forward to briging back great basketball and they're looking forward to that. So if that's my destination then that's something that I can bring to that city."
So if Melo's so big on New York, what would he be looking for in a meeting with Knicks' owner James Dolan? "Just something that I want to look in Mr. Dolan's eyes and see if he's really interested in me coming to New York or see if Mr. Prokhorov is interested in me coming to Jersey. Whoever I deal with I want to have a sitdoown with. That's just proper etiquitte."
Anthony made clear that New York and New Jersey aren't the only options, however. "I don't think they're the only two teams that I can sit here and say, "Yo, I definitely want to be on those teams or nobody else." The Nuggets have to weigh their options. If it's a deal with somebody else that's legit then we all have to sit down and hash that out and talk about it. But time is ticking, man, and time is money."
The most revealing quote from Anthony was that he wanted to see a "legit" offer by the end of the weekend. He's through sitting back and being accepting of what has been happening. "Before I leave here I would love to have something on the table. I would love to have an offer, a legit offer on the table where they can sit down with me and say, 'Melo, this is what we have. Let's try to figure it out.' But as of late there's been a lot of things that have been going on in the media, deals in the media that haven't been legit."
"I would love to have something happen this weekend. I would love to have a legit offer to sit down and figure it out."
After six months, this thing may finally be coming to an end. At least Anthony understands the media and fans are tired of it as well.
"This has been a long process for me, for my family, just for everybody, I'm pretty sure it's been a long process for you guys too, to have to wake up in the morning and deal with the Melodrama."
Maybe this weekend is the breaking point for all this nonsense to end.