Posted by Royce Young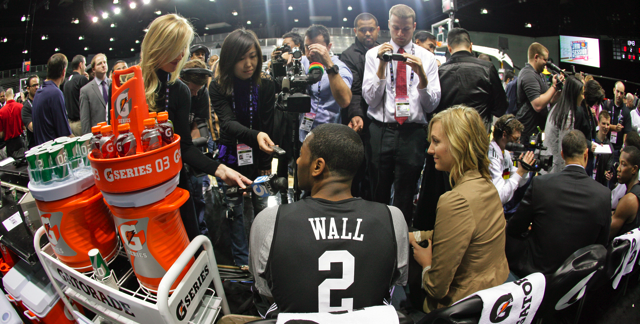 LOS ANGELES -- It wasn't a coincidence that
DeMarcus Cousins
,
John Wall
and
Eric Bledsoe
all sat within arm's length of each other during media availability following their Rookie Challenge practice. The three have been separated for a few months, but if just for a weekend, it's like the good old days in Lexington.
"It's great for us to all be on the floor again together," John Wall said. "It's probably for the last time too unless something happens in the future with some trades or something. So it's cool."
The Kentucky supertrio all went separate ways with Wall staying east with the
Wizards
, with Cousins and Bledsoe stretching out west to Sacramento and Los Angeles.
It was a historic draft night for the Wildcats, with the three players all going in the first round. Wall was taken first overall, Cousins fifth and Bledsoe 18th.
Their rookie seasons have all been similar, but in different ways. All three are on struggling teams that are working to rebuild. All three have had some serious ups and down. Wall has battled some injuries, Bledsoe is getting used to playing as a backup behind
Baron Davis
and Cousins, well, he's had his own stuff to deal with.
Cousins has had a few incidents early in the season but caught a lot of attention with a locker room scuffle with teammate
Donte Greene
. But for the 20 minutes he sat next to Bledsoe and Wall, he looked to be right at home. He actually ignored questions at times because he was too busy messing with Bledsoe. When one photographer wanted a picture of Bledsoe and Cousins together, Cousins grabbed his former Wildcat teammate and pulled him over. Never mind that Bledsoe was in the middle of answering a question.
I talked to Cousins following the
Kings
loss in Oklahoma City which was his first game back after being ruled inactive because of the locker room incident. Of course the Kings had just lost, but Cousins overall mood was night and day different sitting next to Wall and Bledsoe. Whatever it is, you just can't substitute that camaraderie developed playing for a school.
The three have been together so far the entire stay in Los Angeles, Bledsoe said. They try and stay in touch as much as possible, but it's been a challenge because, you know, they're busy. Bledsoe said they still communicate with John Calipari some, exchanging texts here and there. But for the most part, the three have been separated by the NBA.
They were prepared for it because when they all joined up for that one season in Kentucky, they had this vision. They knew they'd get one crack at playing together before they all went on to try bigger and better things. But a serious bond was formed for the three as they wound their way through the SEC and made a good run in the NCAA tournament. And to be back again, sitting together answering questions, even if just for a little while, was nice.
"It's a great memory," Bledsoe said. "Everybody's reminiscing. Just coming in and seeing how each other's doing, telling old jokes. It's been pretty fun."