The top three candidates for the NBA's 2010 Rookie of the Year have all struggled with injuries and adjustments in their second season. Posted by Ben Golliver.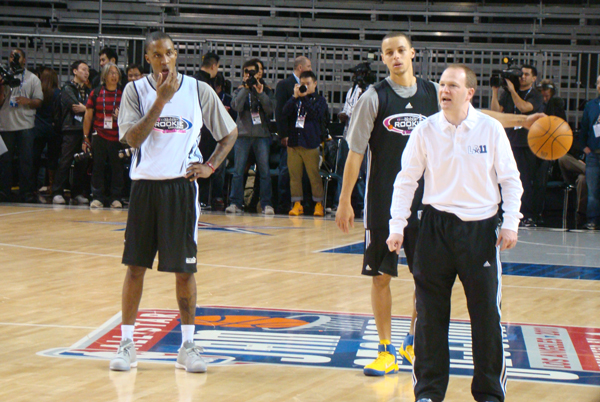 LOS ANGELES – Sacramento
Kings
guard
Tyreke Evans
, Milwaukee
Bucks
guard
Brandon Jennings
and Golden State
Warriors
guard
Stephen Curry
all enjoyed charmed rookie seasons, each providing highlight-reel material and consistent production to make a competitive run at last season's Rookie of the Year honor. The second time through the NBA's season-long obstacle course hasn't been smooth sailing for any of them, however. Evans has been limited by plantar fasciitis, Jennings had surgery on his foot and Curry has battled persistent and painful ankle problems.
"A lot of guys have had a lot of injuries," Evans said after the Sophomore team's morning practice on Friday, in advance of Friday night's Rookie/Sophomore challenge. "Hopefully we'll get them out of the way now, be ready for next year."
Evans' foot pain is forcing him to miss the Rookie/Sophomore challenge. "I know it ain't 100 percent, it's hurting me kinda bad, so I want to see the doctor and see what he says," Evans said. Similarly, Jennings was scheduled to compete in the Slam Dunk contest but pulled out to avoid putting any unnecessary wear on his healing foot.
The injuries have been just the beginning of the challenges facing this year's sophomores. All three have watched their teams struggle to below .500 records at the break and all three have had to deal with defenses that are more focused on stopping them individually and roughing them up.
"It's totally different than your first year," Jennings said. "[During your rookie year], a lot of coaches don't know you, they don't know your game. Everything is totally different. It's an adjustment you have to make. [This year,] they play me tougher, they're showing on the pick and rolls, they're more physical, they force me to my right more."
Confronting new and improved defensive schemes, while also working his way back into form, is doubly challenging. "The injury has been a mental thing, I've got to put it back together, get back to a winning mentality."
The mental adjustments have been a focus for Curry as well. "It's more of a cerebral game this year," Curry said. "You have to sit back and prepare and approach it a different way."
His biggest adjustment has been getting comfortable with a new-look Warriors lineup that includes forward David Lee and big man Ekpe Udoh. "It's just about seeing the floor and managing the game better. I had new teammates that had to get to know and learn, and where they wanted the ball, how to play with them. As a point guard, that's your first job, to get everybody involved in the game. That's something that I've really had to study film, study the flow of the game, make sure we're getting the shot that we want."
Curry noted that, despite the injuries, he's more accustomed to the physical pounding the second time around. "Last year was worse. Coming in, most of the initial attacks from the opponents were taking me or Monta [Ellis] into the post to try to exploit that. We hold our own now, we don't really give up too much space and ground in that situation."
The Sophomore team's coach, Boston Celtics assistant Lawrence Frank, called the trio's struggles with injuries "purely coincidental" and said things could be a lot worse. "The summer between your first and second year as an NBA player is your hardest summer, that's a dangerous summer, especially if you've had success your first year. You feel a little puffy about yourself. You feel like you've arrived. But you realize, now you're on everyone's radar. They're gunning for you. They're coming after you."
Frank's message to Evans, Jennings, Curry and the sophomore group: this is just another step on a path of continual improvement and the target on their backs is only going to get bigger. "You've got to get better. If you stay the same, you've gotten worse."