San Antonio Spurs big man Tim Duncan is the oldest member of the 2011 NBA's Western Conference All-Star team, but he's fighting back against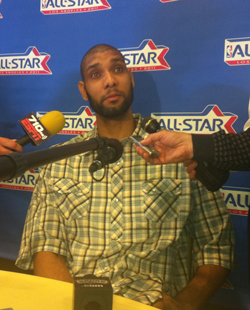 Father Time. Posted by Ben Golliver.
LOS ANGELES -- At 34 years old, San Antonio Spurs big man Tim Duncan now officially stands as the old guard NBA All-Star, the senior member of the 2011 West's team and the second oldest All-Star overall.
But if there was a year for Duncan to feel younger than his age this would be it. After getting bounced in the second round last year and the first round the year before, his Spurs entered the All-Star break with a league-best record of 46-10, all while Duncan has seen his role reduced to the point that he's playing under thirty minutes for the first time in his career.
That combination of winning and a lighter load had Duncan in a jovial mood on All-Star Friday, even as he sat one table over from Carmelo Anthony, his small, mostly local media contingent dwarfed by the media madhouse jockeying for the latest from the Denver's All-Star with the uncertain future.
Casually dressed, Duncan surveyed the madness with a shake of the head, looking glad that he wasn't in the middle of it and a touch annoyed that he had been seated next to it. It didn't bother him for long, though, and he went back to fiddling with his iPhone like his 20-something teammates ("My wife is more important than you guys") and played along when a reporter joked that he must have threatened to walk out on the rest of the season if Spurs coach Gregg Popovich didn't name him as a replacement for Yao Ming in the West's starting lineup on Sunday ("That got out?").
You don't play more than 1,000 career games and 170 career playoff games without developing a perspective that favors drama-free steadiness and experience, and Duncan settled back into that role quickly, repeatedly pointing to the importance of his team's health and making it clear the Spurs are focused on making a title run in a crowded field of elders this year.
"A lot of the best teams in the league right now have an older core," Duncan said. "If we're healthy enough and we're able to stay healthy I think we have a good chance to be a contender. We've been blessed enough to be healthy with our starting lineup, the core of our team, and it's shown. We went through a bit of a rough one last year but we had a lot of the same core guys and that experience is paying off a bunch right now … I feel as healthy as I have been in 3, 4, 5 years."
Given his reduced role, Duncan has averaged career-lows in points (13.4) and rebounds (9.2) this season. Despite the statistical decline, he made a convincing case that he can still reach top speed when necessary. "I do believe I can double-double any time. I can do 20-10 just about … well, not any time, but I can get those kinds of numbers on some nights. That's not what I'm being asked to do right now. My role has changed, I'm kind of a different player. I'm working with what I've got."
What Duncan's got also includes experience going through an NBA labor negotiation, and he said he feels an obligation to the league's younger players to get involved, although he wouldn't commit to specific plans. "We went through the lockout when I was in my second year in the league. A lot of the older guys kind of stepped up and knew what it was about, and I want to make sure I can do that for the future generation of NBA players. Stepping up and doing my part in that respect."
That stuff, it was clear, remains on his personal back burner for the moment, as he's focused on seeing through his team's best start in memory. "All we ever worry about are the chances right in front of us. We're not worrying about the years in the future or the years past. This year, right in front us, we're playing great. It's the opportunity we have to focus on right now."
And don't for a second thing Duncan is totally resigned to Father Time just yet. He still feels like he's got some time left before midnight.
"It's been our 'last chance' for our last three, four or five years. That's what everybody keeps telling us. I can't say it's our last chance, but it's as good a chance as we've had in years."