San Antonio Spurs coach Gregg Popovich is known for his wittiness, and he didn't disappoint during Friday's media availability for the 2011 NBA All-Star Game. Posted by Ben Golliver.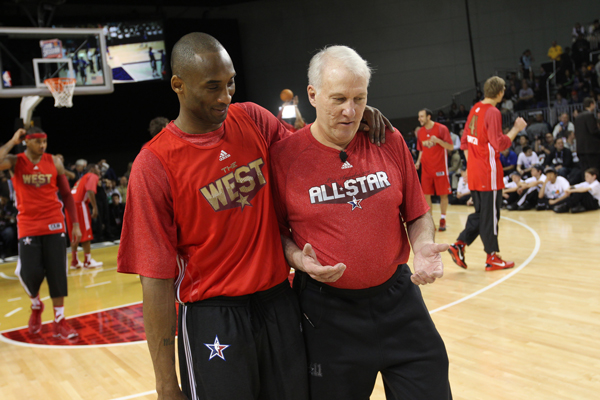 Nobody delivers a barb and drops knowledge quite like San Antonio Spurs coach Gregg Popovich, and he was in fine form on Friday during his All-Star media availability. Popovich is coaching the Western Conference All-Star team and took questions on a variety of subjects. Here's a quick collection of the Top Pop quotes.
On his team's 46-10 start, the best record in the league:
"You'd have to ask Manu [Ginobili]. It's his fault. He came to training camp and said we've got to have a quicker start. And I said, 'OK, how?' Different drills? What does that mean? I said, 'If you want a quicker start: shoot better, go rebound more, that kind of thing. I guess he took me seriously."
On his team's recent "Rodeo Roadtrip":
"We were lost in space for nine games. Hopefully none of the players have a feeling of accomplishment. There are a lot of good basketball teams, a lot of games to be played."
On Kevin Garnett's antics:
"I think Kevin is really unique in that regard. He really focuses on pumping himself up. It's important to his game to talk to himself, to make sure that when he steps on the court it's the most important thing in his life for those 48 minutes.
"Maybe it's a function of age, but it's … amusing would be the wrong word because that would be too flippant. But it's intriguing and interesting and any coach would love a player to be as focused as Kevin is."
On his team's excellent health so far this season:
"We realize full well that one of the biggest contributing factors to our record is that we've been healthy. You look at the top 3 or 4 teams in the East and the top 3 or 4 teams in the West they've all had injuries. Honest to God, you look over your shoulder thinking something's got to happen."
On Phil Jackson's expected retirement:
"Phil would be missed if he decided not to coach again. I don't pretend to understand what people are going to do or not do, I think it's good for the league when guys like that are there. It's good for all of us for all of the obvious reasons."