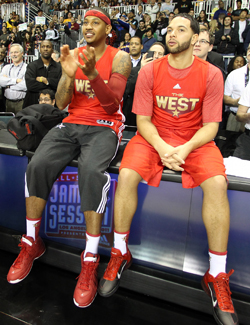 Ken Berger of CBSSports.com reports that Deron Williams began informing associates after last season that he would follow Amar'e Stoudemire to New York.
Posted by Matt Moore
Ken Berger of CBSSports.com dropped a bombshell Saturday night amid talk of a Dolan-Isiah-Walsh conflict over Melo, the
Nets
' meeting with Anthony, and this whole ugly mess. From Berger:
A person with knowledge of the conversations told CBSSports.com on Saturday that Jazz point guard Deron Williams began informing close associates after last season that if Stoudemire wound up in New York, Williams would follow him there as a free agent in 2012. If the Knicks got Anthony with the three-year extension under current rules, it is not clear whether they'd have enough cap space to add a player such as Williams, Chris Paul or Dwight Howard when the trio become unrestricted free agents after next season.
via
Nets reportedly back in on Melo after Dolan jumps in - NBA - CBSSports.com Basketball
.
So here's how this play will probably get executed.
Williams will, of course, strongly deny the report tomorrow whenever a reporter manages to ask him. Half the people will freak out over the media and half will freak out because of the implications of this on the current season. That's how these things are structured, to leak word while providing cover. Just enough for there to be analysis of the player's fit with the prospective team, and just enough to allow for hand-wringing over the veracity of the claim.
Williams just came through the resignation of Jerry Sloan, with reports indicating Williams was involved in a locker room confrontation the night before Sloan announced he was leaving the Jazz after over two decades. Williams vehemently denied any such conflict with Sloan, but the repercussions caused by the Hall of Fame coach's departure are still being felt.
At the time, we talked about how Deron leaving after that debacle
would be "worse than LeBron
." News that Williams has been considering a departure for such a major market before this season will leave its mark on the Jazz even as the team flounders, trying to hold on to a playoff spot. Welcome to the big time, Deron Williams. You might want to get some advice from Melo on how crazy it's going to get.