Posted by Royce Young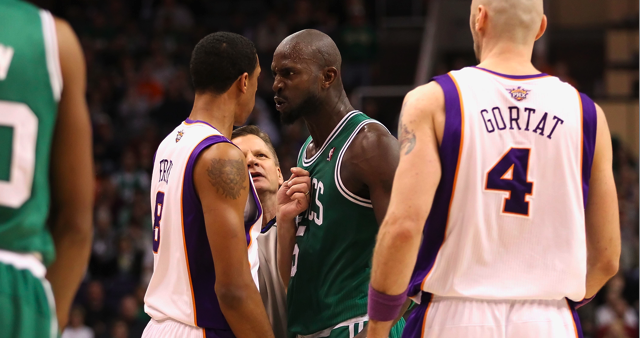 LOS ANGELES -- Sometimes it's in good fun, sometimes it's to try and irk your opponent to gain an edge. Whatever the intent behind it, trash talk is just a part of sports.
Always has been, always will be.
The topic was kind of brought to the forefront earlier in the NBA season when
Charlie Villanueva
tweeted that
Kevin Garnett
told him he looked like a cancer patient during a game. Immediately we were all wondering what was fair and what was foul.
Spike Lee, who sits courtside at New York Knick games and can surely hear a good amount of on-court chatter, recently said of Garnett's trash talking tactics, "He needs to calm the (bleep) down." So it's at least a conversation worth having.
I think the whole trash talk thing is overrated,"
Dirk Nowitzki
said. "I think no feelings will get hurt. Once the game's over, everything is forgotten. We want to win, that's how we compete and afterwards, it's done.
In terms of Garnett specifically? "I don't think it's bad. I think it's his style," Dirk said. "I've been competing against him for 13 years now, and that's how he plays. His intensity is [second to] none to any other player in the league. That's his style."
Garnett has kind of become the lightning rod for discussion about it. With Lee's comment, the Villanueva tweet and then the low-blow to
Channing Frye
, all of this trash talk/dirty play thing has been re-hashed all over again. Garnett has always been this way though. He's always been intense. Always been a talker. It's the way he plays. It's his game. And he's not changing it.
"I go at this a certain way. I always have, always will," Garnett said Friday in Los Angeles. "I don't make any excuses about that or apologize for anything that I've done. I think I carry myself in a well-fashioned manner. I respect the game first off. I respect the players, and I'm definitely not out there trying to hurt anybody. I don't want to be hurt ... I'm out there playing hard and playing competitive. If it comes off as something else, then that's your problem."
Obviously, it's clear what's fair and what's not. Garnett's line about Villanueva and cancer definitely appeared to cross some sort of trash talk line. (Though later of course Garnett said that he was actually calling Villanueva a cancer to his team. Who knows.)
But talking is fun. In most cases, that is. Players don't always do it to try and get in their opponents head. Sometimes it's just because basketball is fun, playing basketball is fun and talking trash is fun. Simple as that. Some take part, some don't.
"I enjoy myself, but I don't talk no trash,"
Kevin Durant
said. "If guys want to talk about the game or whatever, I talk. But I just leave it at that. I don't try and get into it too much."