We preview the NBA All-Star Game (Sunday 8 p.m. EST) by looking at what Hollywood films the All-Stars compare to.
Posted by Matt Moore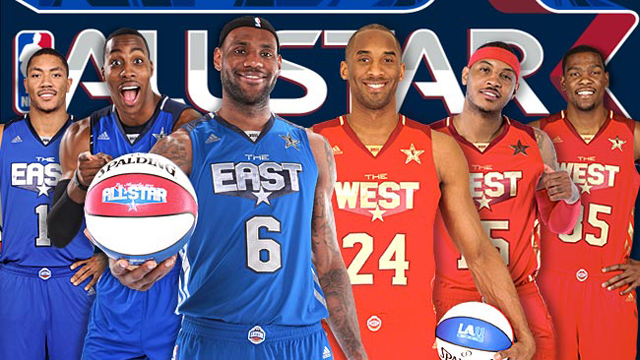 The big game is here. OK, so the game's not actually all that big, considering it's a group of severely hungover 20 and 30-year-olds not playing defense and winging up ridiculous shots with little effort or focus. But it is a staple, a part of the game, and the crown jewel of sports' best All-Star Weekend, the NBA All-Star Game. It's a matter of recognition to be among these players, the best in their industry. This year they're in Los Angeles, Hollywood, and in the spirit of that, we thought we'd break down for you what some of these players will be showing us tonight in relation to some classic movie performances.
Carmelo Anthony as Bella Swan (Kristen Stewart) in the Twilight Saga.
You see, just as Bella must choose between werewolf beau Jacob and vampire soulmate Edward, so too does Carmelo Anthony have to choose between the New Jersey
Nets
and certain money/bigger market, and the New York
Knicks
, his franchise soulmate, who he's longed for for so long. All-Star Weekend has adopted the role of the woods where so many deep and meaningful conversations between Belo (see what I did there?) and his prospective mates have occurred. After long conversations and serious contemplation, Belo must choose what life he is to lead. Plus, just like the
Twilight Saga
, everyone is completely and totally sick to death of this story. It's meandering, pointles storylines and overdramatic interpretations have left us weary, longing for the days when players played out their contracts and vampires were actually tough. Sunday's game represents
Breaking Dawn
, the finale to this traveshamockery, and we all pray that afterwards we never have to hear about it again.
Kobe Bryant as Seth Gecko (George Clooney) in From Dusk till Dawn.
Kobe Bryant said last week that his favorite Robert Rodriguez movie was
Desperado
. But Byrant bears little resemblance to the tender-hearted, vengeance-starved dreamboat from
El Mariachi
. Instead, Bryant most closely resembles George Clooney's take on a violent criminal turned hero when a Mexican brothel turns out to be a feeding ground for vampires (I know, two vampire flicks in a row. Bear with me.). Like Bryant, Seth is a cold hard killer who will do what it takes to survive and thrive, but is also portrayed as a hero due to the circumstances he falls under. You're left wondering if Gecko was a good or bad person, but you have no question as to whether he's the toughest S.O.B in the room. And, like Gecko, Bryant is forced to try and protect and carry along those weaker than him, like his Laker teammates. In short, expect a lot of firing out Bryant's guns, even in an All-Star Game he'll mostly be taking off due to injury.
Kevin Garnett as Jaws in Jaws.
Garnett's coming off the bench for this All-Star game, so much like his counterpart, you won't see him for a while. But there's likely to be some scary moments when he steps on the floor, as Garnett struggles with turning his hyper-intense attitude off. Much like the gigantic man-eating creature in the horror classic, Garnett's mouth never stops moving as he's always running it at opponents. And like the monster, it takes a ridiculous sequence of events to destroy Garnett, involving a tank of compressed gas and a rifle shot from a piece of flotsam when the creature opens it's mouth having lodged the tank in its teeth. This isn't exactly like the knee injury that sidelined him in 2009, but it's close. You also get the feeling that after this spring's playoffs,
LeBron James
may be left saying "We're going to need a bigger boat."
Derrick Rose as Jules Winfield (Samuel L. Jackson) in Pulp Fiction.
A postmodern neo-noir exposition on the concept of cool? That's the very mark of Rose, who now steps into the spotlight as a starter for the first time in the All-Star Game. Rose is cool, calm and collected, much like Winfield, and just as
Pulp Fiction
is often overlooked now for its influence and yet wildly overrated for being a work of complete genius, so too does Rose both outperform our expectations and suffer from an overload of hype. Those who "get" Rose adore him, and those who don't think his game is little more than a flashy version of Stephon Marbury. But the impact of his play is just as considerable as the film that pushed Tarantino from indie-filmmaker to one of the world's premier directors.
LeBron James as Josh Baskin (Tom Hanks) in Big.
Yup, I went for the cheap laugh here. The overgrown child who winds up succeeding beyond his wildest dreams thanks to his natural ability? Hello, Lebron. But while Josh is endearing to the audience in
Big
thanks to Hanks' delicate performance of naivety, instead we play the part of John Heard's Paul Davenport, the annoyed boyfriend of the love interest who can't undestand why this guy keeps getting pushed when he's such a moron. In this way, LeBron reveals that we're at once right, and wrong, and it doesn't matter because in the end he gets to play with his friends and that's all that matters.
Dwyane Wade as James T. Kirk (Chris Pine) in Star Trek.
Smooth, aggressive, and constantly doubted by those in his life, Wade ends up saving the planet because of his ingenuity and bravado. That's Wade. This J.J. Abrams re-invention of the classic sci-fi tale serves as a comparison for Wade re-inventing himself as part of an ensemble cast rather than the lonely lead. In this scenario, the 2007 season was Wade's time spent as Sam Bell (Sam Rockwell) in
Moon
. Wade brings fast action and a nice smile to the game, and the knowledge that when you put him on the big screen, this flick is going to sell. Try not to get lost in the fact that J.J. Abram's penchant for formulaic character concepts wrapped in overly-developed plots are desperately similar to Erik Spoelstra's offensive schemes.
Kevin Durant as Jason Bourne (Matt Damon) in The Bourne Identity.
Humble, unassuming, and kill you quick. That's Durant. Durant also seems to have a hidden past, as he shows up as this fully formed phenom despite his time in D.C. And similarly, Durant is looking to escape the shadowy organization out to take hold of him. In this case, the media.
Dwight Howard as Truman Burbank (Jim Carrey) in The Truman Show.
Just as the movie reprsented Carrey, the biggest comedic star in Hollywood at the time's first real attempt at drama, so too does this season see Dwight Howard straining for serious recognition as the best player in the game. In the end, it's Carrey's humor that helps deliver the emotion and empathy needed for the Peter Weir film to carry us to a place of consideration, just as it will always be Howard's goofy demeanor combined with his freakish athleticism that puts him on the front page of the NBA paper. But whereas Carrey's Truman steps out of the world he's been placed in in order to experience reality, Howard seems to further immerse himself in the cocoon that's been placed around him, refusing to take responsibility for his part in the
Magic
's championship hopes and instead holding the threat of his departure to a bigger market over the heads in Orlando like the giant metal moon in
The Truman Show
.