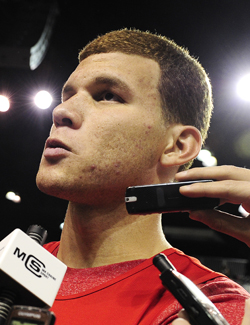 5 Things to Watch in the NBA All-Star Game.
Posted by Matt Moore
Here are five things to watch in tonight's NBA All-Star Game
1. The Last Ride?
Kobe Bryant
,
Tim Duncan
,
Kevin Garnett
,
Dirk Nowitzki
,
Ray Allen
,
Paul Pierce
. This could be the last ride for those players to all be in the All-Star Game. Most of them will be around in Orlando next year as All-Stars (if there's an All-Star Game next season, if there's a next season). But this is the last time to see them as all having earned their way through their play and not as legacy selections (you could argue Duncan's already hit that point but seeing as how his team is six games up in the West, we'll give him the benefit of the doubt). We do wish
Steve Nash
could have made it though. It's a shame the point guards in the West are so talented and deep, because it would have been good to see Nash out there one last time.
2. The Boston Pops
How will Doc Rivers play the four
Celtics
? Will he play them together, giving them the chance to share the floor for their accomplishments? Will he hold them back, knowning that rest and injury are the two biggest concerns for the Celtics this season? The Celtics don't exactly get along with their Eastern teammates.
Dwight Howard
's been known to swing a few elbows and the
Heat
clearly have a problem with them. All teams are competitive, but the Celtics' culture takes it a bit further than most. Seeing how the Celtics play in what lineups, and how the L.A. crowd greets them will be worth watching, especially if it's anything like what greeted Paul Pierce in the three-point contest Saturday night.
3. Rebounding Dominance
Dwight Howard,
Al Horford
,
Kevin Love
,
Blake Griffin
. Four of the best rebounders in recent history are in this game, and if they give even three-quarters effort, this could be fun. Defense isn't going to be played at all, but rebounds are necessary regardless, and all of these players are instinctive rebounders. Love has something to prove as the replacement addition when everyone's wondering why
LaMarcus Aldridge
was left out, even with Love leading the league in rebounding. Howard can make a statement about his position as still the league's most dominant big, and Blake Griffin just wants to kill everything that moves. Speaking of...
4. Simply Blake Griffin
There are multiple championship rings taking the floor today, yet the biggest buzz will be when Blake Griffin takes the floor. A rookie, in the All-Star Game, for the
Clippers
, has captured the imagination of the NBA world. If that doesn't telll you how quickly his star has risen, nothing will. Griffin has to watch it, though. He's got to peel it back, or he's going to get on the nerves of his teammates who are pretty much there to not play defense and launch ill-advised three-pointers. But the first guy he posterizes is going to be seen on the news for the next 24 hours around the globe. Something tells me the Eastern centers will be watching out when Griffin makes a cut.
5. Durant's moment?
Kevin Durant
is still the humble superstar
. But he's also still the leading scorer in the NBA, and the leader of a club that no one seems to have noticed is closing in on first-round home court advantage. Durant's had a quiet season despite his scoring dominance because of heightened expectations. But the All-Star game could be his time to step up and showcase his abilities. He needs to after a dreadful performance in the three-point contest. An All-Star MVP trophy would go far in kicking off his MVP campaign in the second half of the season strong.