Boston Celtics forward Kevin Garnett discusses the 2011 NBA All-Star Game. Posted by Ben Golliver.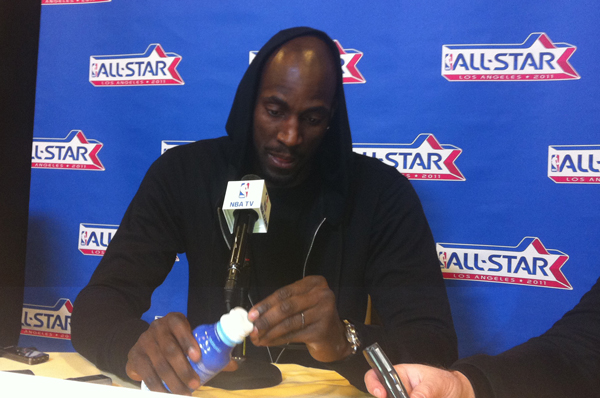 There's no one else in the NBA quite like Boston Celtics forward Kevin Garnett, and thank goodness for that. His antics, trash talk and intensity have helped make the Celtics a perennial contender but have also drawn criticism from opponents, media and fans. During his All-Star Weekend media availability on Friday, Garnett said he was looking forward to a break from the constant competitiveness and had a number of funny one-liners and interesting observations.
Here's a collection of Garnett's best quips from Friday.
On whether his fellow All-Stars are thrown off by his on-court demeanor and profanities when they see him at All-Star Weekend
: "I don't swear
that
much. But I do play hard. I do play with a purpose. My demeanor on the court is what it is, and my demeanor here is a whole different thing."
On whether he will be playing lockdown defense and getting into his teamates' faces on Sunday: "I think offense is the priority here… The fourth quarter is really only the serious time too ... I've been doing it for what, 14 years, competition is one thing, socializing and being friendly is another. I know how to separate the two."
On his pre-game music: "In the early years, I used to listen to a lot of hardcore stuff. Now I'm doing my yoga days -- Namaste -- R&B, sort of stuff that calms me before the game."
On what his job would be if there was a work stoppage next year: "An architect. Being somewhere putting some things together. Illustrating. I'm very much into putting things together, starting from scratch, going forth with that, making it concrete where you can see it.
On whether the Eastern Conference has restored the balance of power against the West: "To be honest, I think it's 50/50 now. Night in and night out you can see teams from the East beating teams from the West, and vice versa."
On "fraternizing" with opponents over All-Star Weekend: "All-Star weekend is a chance for all players to sit down and relax. Get to know one another. I don't like the word 'fraternizing' and I don't like the word 'fronting'. It's the one time that we get to socialize and be friendly, I don't think it's fronting, I think everybody is sort of in a relaxed state."
On what it's like to be one of four Boston Celtics in the game instead of as the lone representative of the Minnesota Timberwolves: "You tend to come here by yourself, sort of got used to that. The fact that I'm up here with three other guys is remarkable."