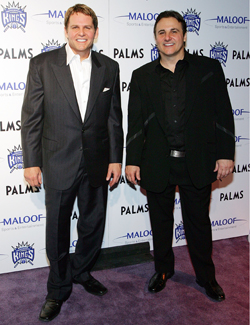 Sacramento leadership reaffirms commitment to building new arena regardless of whether the Kings relocate or not.
Posted by Matt Moore
Saturday night David Stern acknowledged that Kings' ownership had met with Anaheim officials regarding a possible relocation, as reports surfaced that the Maloofs were considering filing for relocation before the March 1st deadline. On Sunday, a Sacramento city council member responded in the best way possible, by simply saying the council was intent on finding funding to build a new arena regardless of whether the Kings move or not. From News 10 KXTV in Sacramento:
City Councilwoman Angelique Ashby Sunday said Sacramento will continue working on plans to build a new sports arena, even if the Sacramento Kings leave the city. She said a new arena "serves this community on multiple levels" beyond being a place to play basketball.

Ashby said a new arena is a good idea even if it's star tenant has left town. "I hope they stay but if the Kings chose to leave, we will miss them and wish them well," she said. "We will welcome other opportunities to enrich this region."
via
Sacramento city councilmember promises to continue push for arena | News10.net | Sacramento, California | Local News
.
Pretty smart move. It maintains the city's backbone and leverage while giving the Maloofs something to consider. The onl problem is that Ms. Ashby isn't the problem. The public is the problem. The economy is the problem. The spiraling economy for NBA small-market teams, especially those who struggle with being competitive during a rebuilding project, that is the problem. And Anaheim is a sure thing. It has a building, ownership support, and the sacred L.A. regional market cow from which to suckle, as Donald Sterling has for years in good years and bad. Okay, more like good year, and bad, but you get what I mean.
The next eight days are going to be very interesting in Sacramento.