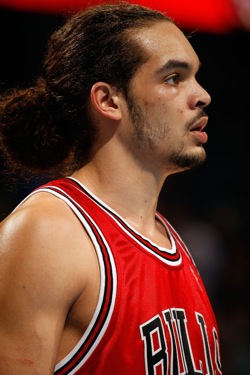 Posted by Royce Young
The Bulls have been pretty scary in the East so far this season, putting together a 36-18 record and rising to a true contender.
And that's without even really playing with their full closet of talent. Via ESPN Chicago, coach Tom Thibodeau said in a phone interview Monday that center Joakim Noah will return Wednesday for the Bulls.
Noah hasn't played since Dec. 15 because of thumb surgery.
Without Noah, the Bulls have gone 22-8 and climbed to the top of the East. Currently, Chicago is just two games behind the Celtics for the top spot in the East.
With the return of their starting center, the Bulls will just get deeper, and better. Kurt Thomas, who has been terrific filling in, will move to a role more suited for himself -- the bench. Thomas is a great veteran to have for 20 minutes at a time, but not necessarily the answer for a legit playoff run.
With Noah, the Bulls have a formidable front line that matches up well with Boston and could overpower the Heat.
We haven't seen much of the Bulls at full strength (just two games) so there might be a bit of a feeling out period between Carlos Boozer and Noah. However, Noah's not the type of player that needs offensive touches. He basically does what Thomas does, except much, much better.
Chicago has 28 games remaining which is obviously plenty of time to continue a strong push to maybe the top seed in the East. And with the starting five finally intact, potentially towards a title too.